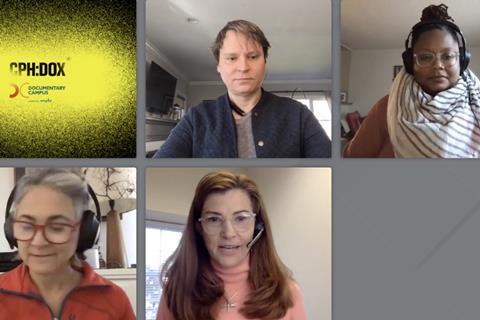 Disney-owned US network National Geographic has taken "quite a few pitches" on the topic of the coronavirus pandemic, according to Ryan Harrington, its vice president of documentary films.
"Given what's happening in the world, we've taken quite a few pitches about coronavirus and covid, and are trying to figure out what story we need to tell in that space that makes the most sense for Nat Geo," said Harrington, speaking via video link at the CPH:DOX online Forum session 'Meeting The Audience Everywhere, All The Time' on March 26.
"We're looking at films two-to-three years out," he said of the network's commissioning process. "We're programming now through 2022, we're looking at 2023."
The session, which was programmed prior to CPH:DOX moving its festival online due to the pandemic, explored how the shift to streaming has affected the impact of non-fiction content. However, the widespread effects of the virus on the industry quickly became the primary topic of conversation.
"I've never been busier," said Mandy Chang, commissioning editor and acquisitions at BBC Storyville. "I've been inundated with people with ideas, and lots of innovative ways of thinking about telling stories in these really tough times."
She emphasised the importance of public broadcasters in such difficult periods. "These moments in time where there are crises are where public service broadcasting really comes into its own. There isn't a broader audience than that you can get on a public service broadcaster or platform. There's not as much pressure on viewing figures."
Alexandra Hannibal, director at CNN Films in the US, said the company is "really focusing on acquisitions given the things we've had in production are put on pause."
National Geographic content is available on Disney+ in the UK and most European territories following the platform's launch there on March 24, and Harrington teased further collaborations with the parent company.
"There will be opportunities for us to be making films with Disney+ directly," he said. "We will have a more diverse slate of films; not every film will have to follow the same path."
On the issue of how streaming has changed documentary impact, "one of the downsides is often the publicity just gets swallowed up in those really small theatrical screenings," said Chang. "By the time it comes round to us on the TV or [BBC streaming platform] iPlayer, it's blown all the publicity you could have of half a million people watching it on TV."
"I think sometimes filmmakers get tied up with the theatrical and the festival and they don't realise how powerful having [their film] on a platform can be."
Patricia Finneran, executive director at the US production company Story Matters Media and moderator for the session, noted that the industry may have to rethink its model for press coverage of titles going online, potentially by "creating an online event – a moment that happens as a virtual event."
CPH:DOX will announce its award winners in an online show at 17.00 GMT this evening (Friday March 27).