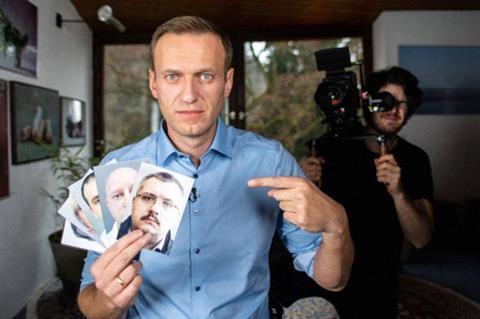 Documentary filmmakers Daniel Roher (Navalny) and Christoffer Guldbrandsen (A Storm Foretold) came together on Tuesday (March 29) to discuss the challenges of profiling controversial political subjects in the first CPH: DOX A Morning With… session in Copenhagen.
With documentaries Navalny, about Russian opposition leader Alexei Navalny (poisoned by the Kremlin and now incarcerated), and A Storm Foretold, a profile of divisive US right-wing figure Robert Stone (instigator of the 'Save The Steal' movement which culminated in the January 6 attacks on the US Capitol), Canada's Roher and Denmark's Guldbransden are both tackling the political establishment head-on.
Each revealed how they navigate their own moral beliefs when profiling such subjects. Very differently as it turned out.
"There is a right side in politics, and filmmakers pick a side," stated Roher, who said he is clear and passionate about his belief in democracy and justice.
For Guldbrandsen, however, things are more complex. "For me, it's about subjective impartiality," he said. "I'm not for or against the Trump movement when I'm making this film, but I have a personal experience of what I see and the stories I tell about it."
Personal objections
When asked by Roher how he navigates those contentious right-wing beliefs which he may personally find objectionable, such as abortion rights, Guldbransen responded he has a natural bias towards democracy and human rights.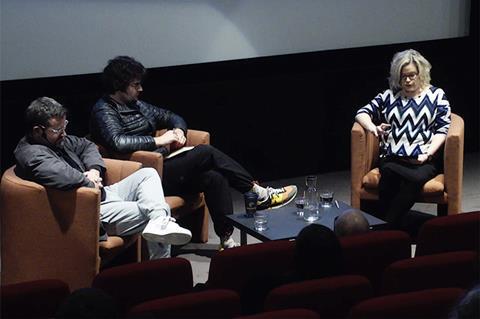 "There are some areas where it is very difficult, like when I'm having lunch with the Proud Boys and the conversation turns very nasty," he noted. "But when the camera is rolling, I pull myself together. I am there to document, not to preach. I don't have a political objective."
Roher's position, however, is that in deciding to make a film about a particular subject, a documentarian is inherently giving them, and their opinions, a platform. "As a filmmaker, I believe that when I choose a subject I give them time, energy and publicity."
On how he could justify giving airtime to such an alienating figure as Stone, Guldbrandsen was quick to respond. "I don't subscribe to that platform idea. I don't put him on a pedestal, and I don't care whether you like him or not. He represents something that is important for us to understand and deal with."
Challenged by Roher that he could have chosen to have made a film about anyone, Guldbrandsen asserted "sunlight is the best disinfectant. De-platforming and cancel culture is ignorance. Don't we have the strength to oppose these people and these ideas by argument and discussion?"
Where the two did agree, however, was on a filmmakers' necessity to remain loyal to the film, over and above its subject. On the subject of not becoming too close to one's subject, Roher said that was something he had to be "constantly mindful of… Navalny's a good time, and we share the same passions, so it's easy to drift into being buddies with him. But at no point did our relationship get in the way of us having challenging conversations about aspects of his personal history and political philosophy. On a human level you can simultaneously maintain an objective critical eye as a filmmaker, but care about him as a human being."
"It's a decision you have to make," agreed Guldbrandsen. "Your loyalty should always be with the film. In the Danish Film School, there's a belief that you should care and love your main character. For many films, this is a good approach. But as soon as you enter the political realm, are documenting people with power, your relationship needs to be more adversarial."
Real connection
It was clear both had developed a real connection with their subject. Guldbrandsen said that — despite Stone ditching him for another documentary crew a year into filming and the stress of keeping the show on the road resulting in him having a heart attack (something he's kept in the film) – he wanted to show Stone as a three-dimensional human being, rather than just a "cardboard cut-out" of evil.
And while Roher was aware that, as a man, Navalny has failings, he is adamant the film is about celebrating what he stands for: a more democratic Russia.
There was also a sense the story is ongoing for both of these filmmakers, even now the cameras have stopped shooting. Guldbrandsen is still in the edit of A Storm Foretold, while Navalny is playing the festival circuit and is being released in the UK in May by Dogwoof. Stone remains the subject of investigation in the US, while Navalny is imprisoned in Russia, with authorities looking to extend his sentence.
Guldbrandsen and Roher also contended with the suggestion they have personally become part of that ongoing story — while neither was prepared to comment on the fact that their footage could become evidence in respective investigations, both alluded that was a possibility. Yet both filmmakers were keen that their work have a more universal impact.
"I hope it will impact the [political] debate in America," said Guldbransen, cautiously. "I hope people will make up their own minds."
For Roher, the film has taken on increased significance, both with Navalny's imprisonment — "The way you keep him alive is by keeping him in the global consciousness" — and the atrocities Putin's forces are now inflicting on Ukraine.
We're dealing with an authoritarian regime that positions the minds of its citizens and stamps out opposition," he said of Russia. "The most important thesis of our film is that Putin is not Russia, and Russia is not Putin. I hope the film illustrates a portrait of a man who offers a different vision. In this incredible darkness, I hope this story of Navalny and his character can be a light."
Navalny is screening at CPH: Dox, while A Storm Foretold is presently in post-production. CPH: Dox runs until April 3.