Majority of production loans have gone to female directors.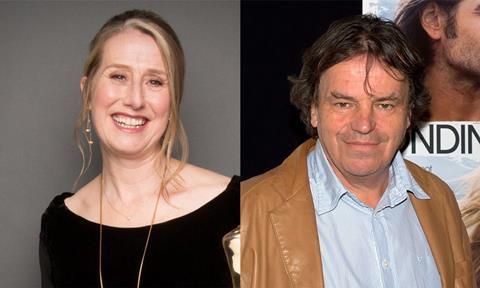 New projects from Neil Jordan, Neasa Hardiman (both pictured) and John Butler are among those supported by the Irish Film Board in its latest round of funding decisions.
In an apparent nod to recent pledges by the IFB to commit to gender parity in its funded projects, three of the four production loans in this quarter were given to films with female directors.
Filmmaker Neasa Hardiman, whose television credits include Happy Valley and Tracy Beaker Returns, will make her feature directorial debut with Sea Fever, which has been given a provisional offer of commitment by the IFB.
The film, centred on a science student who becomes isolated from her superstitious trawler crew as they struggle to overcome a deadly parasite in their water supply, was also written by Hardiman and will be produced by Fantastic Films.
The End of Romance, written and directed by Trish McAdam, based on the life of Irish revolutionary and suffragette Maud Gonne, was awarded €450,000 in production funding.
Set against the backdrop of the First World War and the 1916 uprising in Ireland, the film focuses on Maud Gonne and two key connections in her life - her relationship with the poet WB Yeats and with her impulsive 21-year-old daughter, Iseult. Fleming Creative is producing.
In fiction co-productions, €175,000 was awarded to Queen of Ice, a biopic of Norwegian figure skating champion Sonja Henie, who went on to become a famed Hollywood actress. Anne Sewitsky (Happy Happy) will direct a script by Andreas Markusson and Mette Marit Bolstad, with Subotica films producing.
Funding of €150,000 was awarded to Birthmarked, an independent comedy starring Toni Collette and Matthew Goode which is currently filming near Montreal. They play scientists who quit their university jobs to embark on a groundbreaking experiment. Emanuel Hoss-Desmarais is helming with Parallel Film Productions.
In development funding, Neil Jordan's horse-training drama The Trainer was granted €23,500. The project, which will see Jordan reteam with his Michael Collins star Liam Neeson, tells the story of a horse trainer in the west of Ireland who becomes beset by personal tragedy. When a teenage refugee, who has fled her own horrors, comes into his life, they form a connection through a horse. Shooting is scheduled to begin in the west of Ireland this summer.
Papi Chulo, the latest project from writer/director John Butler, whose Handsome Devil recently debuted at Toronto, was awarded €20,500. Treasure Entertainment is producing. Parallel Films' Michael Wilson, directed by Brian Kirk (Game of Thrones) was granted funding of €26,000.
In screenplay development, Darren Thornton and Colin Thornton, whose A Date For Mad Mary received critical acclaim domestically and abroad, were granted €16,000 for their screenplay, Here Comes the Night. Funding of €50,000 was granted in animation funding to Oops 2, produced by Moetion Films, whose Two By Two (Oops! Noah is Gone) performed well internationally.
In documentary funding, Ross Whitaker's (Between Land and Sea) lottery documentary All the Numbers was granted €100,000, with Black Sheep Productions producing. Sinead O'Shea's first documentary, Mothers and Sons, with Blinder Films producing, was awarded €100,000.