eOne's video game adaptation clocks non-final $3.3m (£2m) to dethrone 300: Rise of an Empire; StudioCanal's Under the Skin posts strong UK bow of $396,000 (£238,203) from just 47 sites.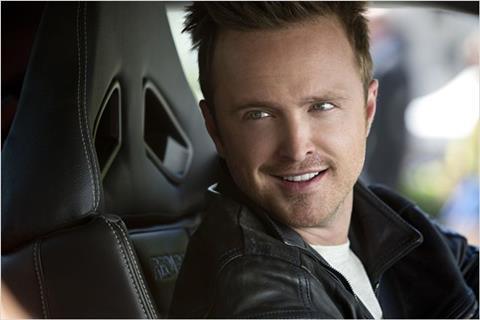 Defying the good weather and a big sporting weekend, Need for Speed has sped to the top of the UK box office.
eOne's video game adaptation clocked a decent non-final $3.3m (£2m) debut, including previews, from its 472 sites. It's worth noting that even its Fri-Sun tally of $2.6m (£1.5m) would have also seen it top the chart.
The opening means Need for Speed is already director Scott Waugh's best-ever UK performer, ahead of Act of Valour. The Fast and the Furious landed in Sept 2001 with $2.9m (£1.8m) from its 414 sites.
With A Long Way Down and Labor Day the only major releases this week, Need for Speed stands a great chance of retaining the top spot if it holds well.
Also for eOne, award winners 12 Years a Slave and Dallas Buyers Club have amassed $32.5m (£19.6m) and $8m (£4.8m), respectively.
FOX
Climbing one place to second, Fox's The Grand Budapest Hotel dropped just 23% in its second weekend.
Wes Anderson's latest added a non-final $2.2m (£1.3m) for $6.8m (£4.1m) to date in the UK, making it Anderson's second highest grosser of all time behind Fantastic Mr. Fox's $15m (£9.03m) result.
Also for Fox, The Book Thief grossed a non-final $471,000 (£283,737) for $5.6m (£3.4m), while Mr. Peabody & Sherman stands at $20.5m (£12.4m) after six weeks in play.
WARNER BROS
Last week's champion 300: Rise of an Empire fell over 50% as it dropped to third with $2m (£1.22m). Warner Bros' sequel stands at $8.9m (£5.4m) after ten days in play and will fall some way short of 300's $23.7m (£14.22m) UK result.
Crossing £30m in its fifth weekend in play, The Lego Movie built up a further $1.7m (£997,000) through Warner Bros. The critically acclaimed 3D animation is up to an excellent $50m (£30.1m) in the UK and should be around to benefit from the Easter school holidays in the coming weeks.
Also for Warner Bros, Gravity is up to $53.9m (£32.4m) after adding $206,000 (£124,000) in its 19th weekend of release.
Despite being available on VoD, the big screen return of Veronica Mars (courtesy of Kickstarter) enjoyed a healthy UK bow of $55,000 (£33,000) from its 11 sites through Warner Bros.
It wasn't such good news for Ironclad 2: Battle for Blood though as it managed just $1,500 (£887) from its five sites.
STUDIOCANAL
Rounding off this week's top five was StudioCanal's Non-Stop with a $1.5m (£901,149) weekend. The high-concept thriller is now director Jaume Collet-Serra's best-ever UK performer with $11.5m (£6.9m), topping Unknown's $11m (£6.6m) result.
Released in 47 sites through StudioCanal, Under the Skin posted a strong $396,000 (£238,203) UK bow, including $58,000 (£34,903) in previews.
While not director Jonathan Glazer's best-ever UK debut (Birth's $701,000/£421,758 from 270 sites), the sci-fi enjoyed the week's highest site average at a terrific $8,423 (£5,068).
Thanks to its opening, Under the Skin is set for a "significant expansion" this coming Friday [March 21] according to the distributor.
UNIVERSAL
With a 48% drop in its third weekend, Ride Along added $707,000 (£425,000) for a sturdy $5.9m (£3.54m) to date through Universal.
Also for Universal, the UK's highest grossing 18-rated film of all time, The Wolf of Wall Street, is now up to $37.4m (£22.47m) after a $190,000 (£114,000) ninth weekend.
ENTERTAINMENT
In its second weekend of release through Entertainment, Escape from Planet Earth took $429,000 (£258,022) for a ten-day tally of $1.2m (£721,699).
DISNEY
Falling 39% in its fifth weekend, Tinker Bell and the Pirate Fairy took a further $312,000 (£187,631). Disney's animation has sailed to $8.8m (£5.3m) so far in the UK.
Meanwhile, the UK's highest grossing original animation of all time, Frozen, has amassed $65.2m (£39.3m) after a $202,000 (£121,605) weekend.
ARROW FILMS
Expanding to 141 sites across the UK and Ireland through Arrow Films, The Stag journeyed to $194,000 (£116,669) for a tally of $437,000 (£263,157) to date. The 79 Vue sites in the UK provided $67,000 (£40,546) of the comedy's weekend gross.
SONY
Released in 137 sites through Sony, The Zero Theorem could only manage a soft $85,000 (£51,137) UK bow. Terry Gilliam's last UK release, The Imaginarium of Doctor Parnassus, grossed $1.5m (£905,786) from 265 sites back in 2009.
UPCOMING RELEASES
This week sees saturation releases for Lionsgate's A Long Way Down and Paramount's Labor Day.
Fox's Starred Up and Sony's About Last Night both receive wide releases, while Peccadillo's G.B.F., Dogwoof's The Unknown Known and eOne's Yves Saint Laurent are among the films receiving limited releases.