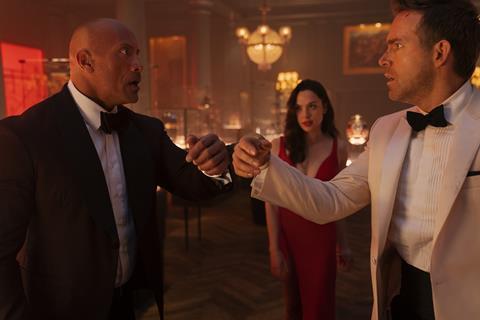 Netflix reported 8.3m global paid subscriber gains in the fourth quarter of 2021, slightly behind its forecast of 8.5m, as member levels in Europe, the Middle East and Africa continued to catch up with the US and Canada.
The EMEA region added 3.5m paid members which, while lower than 4.46m in the year-ago period, boosted the subscriber level there to 74.04m and record quarterly revenue exceeded $2.5bn for the first time.
Subscriber levels in the region are now close to the 75.22m number in the US and Canada, which has been slowing down of late as other platforms ramp up aggressively but nonetheless bucked the trend to deliver 1.19m new paid subscribers compared to 860,000 in the fourth quarter of 2020 for the region's strongest quarter since the early days of the pandemic in 2020.
By comparison EMEA membership stood at 66.7m by the fourth quarter of 2020 compared to 73.94m in the US and Canada.
APAC region has also climbed since the fourth quarter 2020 when membership had reached 25.49m. It now stands at 32.63m after paid membership grew by 2.58m in the fourth quarter of 2021 against 2m in the year-ago period. An additional 970,000 Latin American paid members compared to 1.21m a year ago resulted in 39.96m total membership in the region. The total year-ago subscriber level was 37.54m.
Global membership in 2021 climbed by approximately 18m compared to 37m in 2020, when the grim novelty of staying home due to the pandemic triggered a big surge in subscribers. Worldwide subscriptions now stands at 221.8m and the streamer forecast 2.5m paid net adds in the first quarter of 2022 compared to 4m in the same period a year ago, to push the global membership to 224.3m.
Executives said the upcoming second quarter will be weighted towards the end, with Season 2 of Bridgerton and The Adam Project debuting in March.
2021 was notable for some Netflix hits, with South Korea's Squid Game becoming its most-watched TV show. Netflix co-CEO confirmed there will be a second season. On the film side, Adam McKay's satirical romp and awards contender Don't Look Up starring Leonardo DiCaprio and Jennifer Lawrence now ranking as its second most watched of all time on 353m hours viewed in less than 28 days.
Red Notice currently stands as Netflix's most watched film on 364m hours viewed in the first 28 days. The service has announced two back-to-back sequels that could shoot in 2023 with stars Dwayne Johnson, Ryan Reynolds and Gal Gadot expected to reprise their roles.
Other film highlights from the fourth quarter were The Unforgivable with Sandra Bullock on 215m hours viewed, Army Of The Dead prequel Army Of Thieves on 158m, rom-com Love Hard with Jimmy O. Yang and Nina Dobrev on 134m, Jeymes Samuel's western and awards season contender The Harder They Fall on 122m hours, and animation Back To The Outback on 105m, and
The streamer highlighted several international titles that drew significant audiences including Brazil's Love Is Blind, My Name from South Korea, superhero film Minnal Murali from India and Danish thriller The Chestnut Man.
Netflix said last week it will be implementing its latest price hike as it seeks to maximise revenue from existing members. It also remained upbeat about long-term growth, saying in the letter to shareholders that the move from linear to streaming presents a big opportunity given that Netflix accounts for less than 10% of total screen time in the US.
On the opening day of 2022 Sundance Film Festival, executives also noted in the shareholder letter than acquisition volume has not returned to pre-pandemic levels and speculated this was due to ongoing infections and macro-economic hardship in several parts of the world such as Latin America.
Results initially saw Netflix stock plummet by 20% after hours although at close of trading it was $508.25, down a mere 1%.