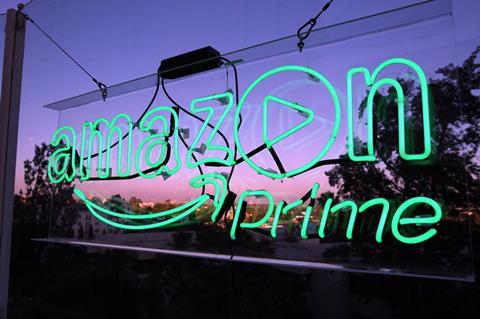 Global hits have to begin locally and understand their target markets – that was the message from Netflix, Amazon Studios and YouTube leadership as they discussed their strategies in Europe and beyond at the Content London conference this week.
Erik Barmack, vice-president of international originals at Netflix said, "In terms of programming strategy, where we are coming from is that a show has to feel true and authentic to the country it originates from. If we do a show in India it has to feel loved in that market first for it to have any strategic value for us. Sacred Games [the Hindi-language thriller that debuted on the platform in July] feels sincere and real and there's something different our consumers are experiencing."
"I'm very much commissioning from a local lens," said Georgia Brown, Amazon's London-based director of European originals, during her keynote.
Brown said that the biggest mistake a showrunner can make is coming in to a pitch and saying, "'I have an idea, it could be Spanish, it could be Italian, or it could be French.' When I commission a show for Spain, I need to know that show will work in Spain. It's an upside when we get feedback from the rest of the world."
Netflix: International talent doesn't have to go to Hollywood
In Netflix's keynote, Barmack unveiled several new projects including Young Wallander (to be made with Yellow Bird UK, looking at the early years of Henning Mankell's popular Swedish detective); and an eight-episode French original series created by Aurélien Molas and written by Molas and Gaia Guasti, with Molas and François Lardenois producing for John Doe Productions. The latter is set in 18th century France, with a supernatural twist where a disease infects the aristocracy.
Those are just two of the 100 non-English-language shows that Netflix wants to offer on its SVOD platform. Barmack aid the company was ready to take advantage of the changing global landscape. "The US represents 4% of the world's population, but [American shows] have to be majority of TV that's distributed globally." He also looked at how much traditional scripted TV travels beyond its home market "It's less than 20% of shows in Europe that travelled beyond one or two countries," he added. "Those two things can't possibly hold. It will be replaced with the concept of TV coming from anywhere and going anywhere."
Barmack continued, "The audience is finding shows around the world and they are not necessarily going through Hollywood. Language is neutralised by platforms like ours: we are dubbing and subtitling, we can have consistent windows around the world. Members can participate in social conversations all at the same time."
Referring to shows like Germany's Dark or Spai's Elite, he added: "We should start to think about these shows as starting from local and going global. The big message we want to communicate with talent is you don't have to leave home to get big audiences. You don't have to choose Hollywood over your own country. We believe we can carry their audiences to their shows no matter where the production is coming from."
Netflix has an unusual model in the case of its production of the new procedural Criminal, which is being set up to shoot in Spain concurrently in four different languages (French, German, Spanish, and English) by four different production teams. "Its interesting for us to see if we can do multilingual productions in a way that hasn't been done before," said Barmack.
The executive noted that while Netflix's doors were open, pitchers must do their homework. "We are readily available and looking to take pitches, and not just from established players… the thing I would encourage [you] to think about is when is the right time to share your material? Do you have a bible, a script? Have you thought about the audience? Have you thought about production costs? Nine times out of 10 those questions which are fundamental for us [in] making decisions, haven't been thought through."
Citing incoming EU regulations that require platforms operating in Europe to offer 30% of European content, Barmack said, "Our goal is to do more shows out of Europe regardless, because that's what our members want. [The EU directive] is not a meaningful change to how we are thinking about programming originals out of Europe."
Amazon Studios: 'We're here to invest in the industry, not just work with the big A-listers'
Georgia Brown, director of European originals at Amazon Studios, didn't reveal any new shows in her keynote, but promised a number of European announcements will be made in coming months. Brown said in 2019 there will be new Amazon offices opening in France, Spain, Germany, and Italy. The vision for us is that we have local creatives on the ground who really understand the local culture and what audiences want," she said. "We're incredibly local in the way we are thinking of content, even if that is joined by a bigger global umbrella."
She showed a clip from Amazon Studios' first UK scripted commission, Good Omens, based on the fantasy novel by the late Terry Pratchett and Neil Gaiman. "It's very British and the humour is incredibly British, but there is a universality in the theme and I think it will travel. But British audiences will find it that bit funnier."
Brown said the common mistakes in pitching include a producer pitching their whole slate as opposed to one or two shows that would be most relevant to Amazon Studios. She also cited "scripts sent in without budget, plan, schedule, this is the talent we want to attach, this is the audience we think it's right for."
Even with talent like Julia Roberts working with Amazon [on Homecoming], Brown insisted, "We're here to invest in the industry, not just work with the big A-listers. It's also important that we are supporting newer voices and newer cast. One great example is Beat, a German original… and we have a number of greenlights to be announced in the next few months that are not star-driven vehicles." Upcoming European projects include a series based on the German family franchise Bibi & Tina, which is casting now.
Brown clarified the misconception that because Amazon is a retailer, its original content needed to entice the audience to buy. "We aren't commissioning shows on the basis that it might flog Pampers," she said with a laugh. "We want to give our audience the very best experience. We are very much in the TV business, not the selling Pampers business."
YouTube Originals: 'It's more about attitude than it is about age'

Jon Wax, YouTube Originals head of drama series and movies, had to overcome a serious case of bad timing. His keynote interview on Wednesday morning (28) came after a shock news story from the previous night revealed that YouTube planned to scale back its scripted offerings beginning in 2020, and at least partially abandon its SVOD platform YouTube Premium (formerly known as YouTube Red).
The company's official statement said it "will continue to invest in scripted programming but move its originals to a free, ad-based model."
Wax, who not entirely jokingly noted that he still "has a job", said the changing focus was "not as dramatic" as this week's headline news, and that it was an "ongoing conversation."
YouTube has two billion active monthly users, making it by far the world's biggest video platform. It also has enormous reach, especially with a younger audience. As Wax noted, "95% of 18-35 year olds in the US are on YouTube."
Wax noted, "YouTube has built a very robust business with UGC [user-generated content] and there is an institutional desire to go back to that. Even for a financially solvent place like Google, the money it takes to get a [paid] platform up and running in earnest is gulp-inducing."
He noted that YouTube Premium's messaging to potential subscribers in the UK has been a somewhat cloudy. "It's a package of three different services [music, video and YouTube special subscriber features], that's a bit confusing to the consumer, I don't know if that's been messaged properly."
The company's scripted originals so far include Karate Kid-inspired Cobra Kai (the platform's most popular original with more than 100m views), Doug Liman-produced Impulse, and Origin, created by rising UK writer Mika Watkins and produced by Left Bank. It has the Kirsten Dunst starrer On Becoming A God In Central Florida shooting now.
"In terms of quality we would hold up ours and say they can exist on the shelf with our competitors," said Wax. "In terms of quantity we're not there yet."
When commissioning shows, Wax said his focus was not entirely the youth market. "It's more about attitude than it is about age," he said. He added of other preferences, "Broadly speaking, we are really not looking for limited series, we are looking for shows that are returnable. We tend to do 10-episode orders. Deal-wise I respond best when I can have the first script in hand; it can make it easier in the deal-making process. It's that much more tangible to be ready for greenlight."
Over three days, 2,000 industry delegates attended Content London. Projects under discussion included Nick Hornby and Stephen Frears' 10-minute serialised story State Of The Union (produced by See-Saw); HBO Adria's Success directed by Danis Tanovic; David Farr's film-to-series action property Hanna; the BBC's new Watership Down; new Agatha Christie adaptation The ABC Murders; Norwegian comedy Magnus; Spanish comedy Little Coincidences; and Atlantic Crossing starring Sofia Helin and Kyle MacLachlan.