Kim Seong-hun, director of 2016 hit Tunnel, will direct the period zombie action thriller series, scripted by Signal writer Kim Eun-hee.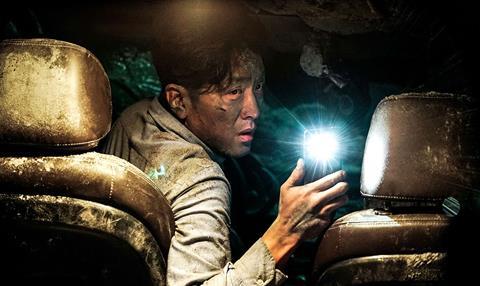 Netflix is launching Korean period zombie action thriller Kingdom, an original TV series directed by Kim Seong-hun.
Kim's sophomore feature film Tunnel [pictured], starring Ha Jung-woo, ranked fifth at the local box office last year, after clocking up $49.7m. Kim made his feature directorial debut with thriller A Hard Day, which premiered in Cannes Directors' Fortnight 2014.
Set in the Joseon dynasty, the eight-episode series follows a crown prince who is sent on a suicide mission to investigate a mysterious outbreak, which turns out to threaten the kingdom.
Kim Eun-hee, writer on the hit series Signal, has been working on the script since 2011. Local TV drama production company Astory, which has credits including Signal, Cinderella's Stepsister, Lee SoonShin and Scent Of a Woman, is producing.
"I am thrilled about partnering with an eminent writer like Kim Eun-hee. Kingdom presents the opportunity to work on long-form television at its most ambitious and on a truly cinematic scale because of the unparalleled creative freedom that Netflix as a global internet television network provides," said director Kim Seong-hun.
Netflix's second Korean original series [after romance series Love Alarm, which was announced earlier this year], Kingdom looks to combine the popularity of zombie action thrillers – a relatively new-found popularity in Korea, following Yeon Sang-ho's watershed hit feature Train To Busan – and the traditional popularity of historical period dramas.
"I wanted to write a story that reflects the fears and anxiety of modern times but explored through the lens of a romantic fascination of the historical Joseon period. Working with Netflix helps us to unlock this creative vision for Kingdom and I am excited to further build this unique story with the director for whom I have tremendous respect," said writer Kim Eun-Hee.
"Kingdom captured our imaginations from the moment we read the script with its visual feast of historical drama blended with supernatural fantasy," said Erik Barmack, VP of international originals, Netflix. "We are incredibly honored by this rare opportunity of pairing two premier creative minds in Korea – film director Kim Seong-hun and television writer Kim Eun-hee."
The series will premiere exclusively on Netflix in 2018 in over 190 countries.
The company's first Korean feature production, Bong Joon Ho's Okja, starring Tilda Swinton, Jake Gyllenhal, Paul Dano and Ahn Seo-hyun, is set for June release this year on the streaming platform.
Last month, local investor/distributor NEW also announced Netflix has picked up Kim Joon-sung's feature film Lucid Dream, a fantasy thriller starring Ko Soo (The Front Line), Sul Kyung-gu (Cold Eyes) and Park Yu-chun (Haemoo).