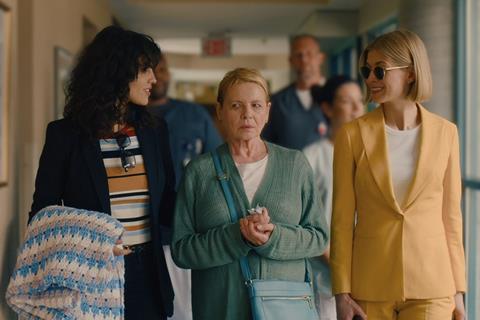 Netflix has snapped up its fourth TIFF sales title, taking worldwide rights to the satire I Care A Lot starring Rosamund Pike for the US and multiple territories.
The streamer picked up rights including Germany, Latin America, South Africa, the Middle East, India and a few others.
The deal was reported to be in the region of $10m, bringing Netflix's total TIFF spend so far to roughly $70m.
Black Bear Pictures financed the film about a legal guardian who cons elderly clients and eventually lands in deep water.
CAA Media Finance and STXinternational represented the filmmakers.
In February STX Entertainment and Black Bear announced a partnership under which STXinternational will sell and distribute all Black Bear productions outside North America, while Elevation will distribute all STX productions in Canada.
Netflix's previous TIFF buys were Bruised, Pieces Of A Woman, and Malcolm & Marie.