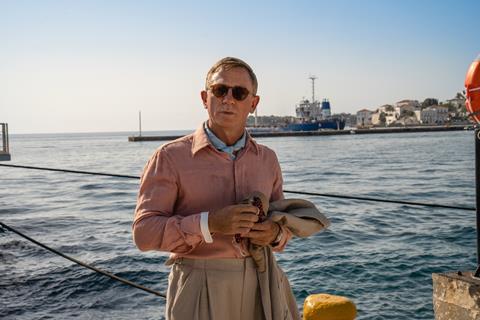 Netflix CEO Reed Hastings has said the streamer is not trying to build a theatrical business while conceding that it left "lots" of money on the table in a one-week theatrical preview release of Glass Onion: A Knives Out Mystery.
Emphasising that the release of Rian Johnson's murder mystery was a promotional tactic in service to Netflix's overall strategy, Hastings told moderator Andrew Ross Sorkin at The New York Times DealBook Summit on Wednesday, "We're interested in customer satisfaction on our service.
"So with film we release them typically at film festivals early to stimulate conversation and demand, but not to fulfill that demand, except when it launches on Netflix and everybody watches," he contonued. "Our week in… a small number of theatres has done exactly that: everybody's talking about it and is excited about Glass Onion. It's going to be huge and [on] December 23rd the whole world's going to get to see it and I think it will be one of our biggest films. And so it's a promotional tactic like film festivals and if it works well we'll do more of it."
The whodunnit starring Daniel Craig opened in 638 US cinemas – major theatrical tentpole releases tend to start in the 3,000 range – and reportedly grossed in the region of $13m in its first five days. That ranks not only as the streamer's highest grossing theatrical performance to date but would have placed Glass Onion third in the North American box office charts over a dismal Thanksgiving holiday weekend. It is estimated to have grossed $15m over an entire week.
Asked by Sorkin if he would ever consider a week-long release in 3,000 cinemas for one or two weeks, Hastings replied, "Two religions: member satisfaction and operating income. That's what we're focused on. We use this as a promotional technique, so that more people watch it on Netflix… We're not trying to build a theatrical business; we're trying to get people so excited and break through the noise so everybody [is clamouring to see it]. Then everybody's going to watch it [on] December 23."
The CEO also said the company was late to the advertising game and had not understood there was demand from advertisers to reach the 18- to 49-year-old demographic through smart TV's. Netflix launched its Basic With Ads ad-supported tier at the start of November.