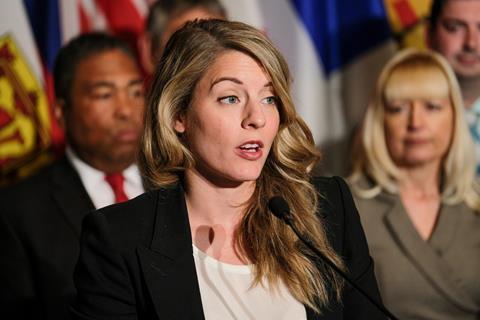 Sections of the Canadian entertainment industry have called for greater clarity on a CAD $500m investment commitment by Netflix and expressed ongoing dismay over the streaming platform's tax exemption under a national cultural review.
In a company blog posted on Tuesday (October 10) titled 'What Netflix's half a billion CAD investment in Canada is really about', director of global public policy Corie Wright reiterated the investment of "at least half a billion CAD in movies and television shows produced in Canada, both in English and in French, over the next five years." The commitment was announced in late September by the country's minister of Canadian heritage Mélanie Joly (pictured) as part of the broader Creative Canada cultural policy.
While some have welcomed the so-called Netflix Canada initiative that encompasses the CAD $500m (approximately USD $400m) allocation and includes plans for a production hub in Canada – the company's first outside the US – others remain anxious for the streaming service to reveal more.
"There's no detail from Joly on the Netflix Canada deal," one prominent Canadian producer told Screen. "A deal whereby Netflix truly commits to the national industry of a non-US country would be revolutionary. Co-productions would then come under this new development announcement by Joly. It would be extremely beneficial to have [Netflix] do this… but unfortunately I don't think that's happened."
It is understood Netflix plans to use the money to invest in new Canadian content and production, however the company did not specify how much will go into each area when asked by Screen. Additionally, critics say the annual allocation is less than what Netflix is currently spending in Canada and a disproportionately low amount compared to the $6bn it has said it will spend on global content this year and the $7bn outlay projected in 2018.
"Joly should be concerned about the wellbeing of Canadian content creators, not shows from outside the country that are shooting in Canada to take advantage of the cheap dollar and the tax credits," the producer said.
'Does this $500m cover Canadian content or Canadian production?'
"Does this $500m cover Canadian content or Canadian production?" one senior executive in the industry said. "Content is based on a points system to ensure it qualifies as Canadian and the Canadian producer owns the rights. "If they're involved in Canadian production, that could mean a production service deal for a Canadian company, but Netflix owns the rights and it's not necessarily Canadian content."
The executive noted the Netflix Canada initiative threatened to allow the streaming service access to local talent and facilities while retaining "worldwide rights on everything they touch." The recently announced price hike does not sit well with detractors either. However on its blog Netflix insisted the measure was planned a long time ago and "has nothing to do with our investment or commitments."
The other matter that remains a sore point with detractors is that while Canadian broadcasters pay tax, Ottawa is not imposing sales tax on Netflix or other non-Canadian internet companies, which critics say will negatively impact a funding infrstructure that needs to reflect evolving landscape in order to remain viable. Reflecting the policies of prime minister Justin Trudeau, Joly, who consulted with the industry for 18 months before announcing Creative Canada, is keen to bring the country into the digital age while finding ways to support creators.
Netflix said in the blog it did not choose to invest in Canada in return for tax breaks. "We have not made any deals about taxes. Our investment was approved under the Investment Canada Act. No tax deals were part of the approval to launch our new Canadian presence. Netflix follows tax laws everywhere we operate. Under Canadian law, foreign online services like Netflix aren't required to collect and remit sales tax."
"It seems exciting," Jason Moring of Toronto-based sales agent Double Dutch International said of Netflix Canada. "Investing in what looks to be Canadian talent hopefully opens up some new avenues for the system." Moring said if the streaming giant's investment helped fresh local talent gain exposure, it could benefit everyone in the long term.
'Positive' broader aspects of Creative Canada policy
Reynolds Mastin, president and CEO of the Canadian Media Producers Association (CMPA), hailed as "positive" several broader aspects of Joly's Creative Canada policy, among them the announcement of a $125m (roughly USD $100m) export fund over five years, which is expected to become operational by 2018. "As producers are more focused than they have ever been with international partnerships," he said, "this fund will help create new partnerships to finance and sell into foreign markets."
Mastin added that he was encouraged by ongoing reviews of legistlation covering broadcasting, telecommunications and copyright, which are expected to report in the months ahead.
Turning to Netflix, Mastin said, "The deal has the potential to be a positive interim measure for Canada if it creates opportunities for increased independent production of Canadian stories. However, with new digital players continuing to enter our country, we believe an updated regulatory system is the ultimate path to ensuring the production of diverse Canadian content for decades to come."
Canadian regulator CRTC is conducting a review of the digital landscape and is due to report to Joly in June 2018. Netflix, like other digital innovators, has made it clear it is uninterested in regulation.
Stéphane Cardin, vice-president of industry and public affairs at the Canada Media Fund (CMF), naturally has welcomed Joly's proposal for additional backing for the fund, which promotes, develops and finances Canadian content. "There's a concern with the fact that there are diminishing resources to support content creation in this country. Advertising revenues are down and for the CMF is supported by a mix of government funding and Canada's cable, satellite and IP companies.
"The trend in cord-cutting has a direct correlation on those revenues coming to us," Cardin said. "Our programming budget declined by CAD $25m [approximately USD $20m] from last year to this year [CAD $375m-CAD $350m, which equates to roughly USD $300m-USD $280m], so the announcement that the government recognised that and will take steps to compensate for that loss starting on April 1 2018 is obviously good news for us."
Some producers and executives have also voiced concern over how much will be spent in French-speaking Canada, a region that accounts for a little under one-fifth of Canada's population of 36million.
"Quebec is defined by its culture, its language and its stories and there is a need to get more funds to finance existing talent in addition to the new generation of filmmakers," a leading producer told Screen. "The monies that have been announced [as being] invested by Netflix might help. The question is how much of that is already being used on Netflix productions in Canada and how much will be used on original French-language Quebec content and Canadian content."
In fact Netflix said it has pledged to support French-Canadian content through a CAD $25m investment that will include pitch days for producers, recruitment events and other promotional and market development activities.
However filmmakers want to see more. "There is an unanimous request from every artistic discipline to the federal government to inject more money into content versus platforms," the producer said. "Artists are more concerned about content than the platforms. The platforms are important, but we're an industry of prototypes – every production is something new and different; it's not like creating a new design of a pair of shoes and mass reproducing them."