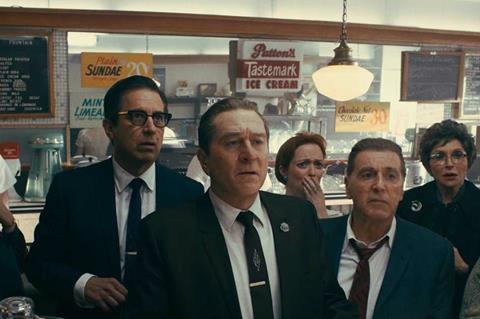 Netflix is the distributor to beat at this year's British Academy Film Awards (Baftas) with 23 nominations. The streaming giant's nearest challenger is Sony with 16.
Netlfix's nominations are spread across six titles, with The Irishman scoring ten (the joint second-highest total behind Joker), Marriage Story and The Two Popes on six, and American Factory, The Great Hack and Klaus on one.
Sony's nods are dominated by Quentin Tarantino's Once Upon A Time… In Hollywood (also ten), followed by Little Women (five) and A Beautiful Day In The Neighborhood (one).
Next is Entertainment One, with nine nominations for Sam Mendes' 1917, and one apiece for Booksmart, Sorry We Missed You and Wild Rose.
Warner Bros. has 11, all for top nominee Joker, whilst Disney has ten, for Le Mans '66 (three), Star Wars: The Rise Of Skywalker and Avengers: Endgame (both three), Frozen 2, The Lion King and Toy Story 4 (all one).
Last year Fox Searchlight dominated the list, picking up a company record 25 nominations in its final year of independent operation prior to its Disney takeover. This year it has six, all for Jojo Rabbit, however the joint Disney/Fox Searchlight total is 16, level with Sony.
Curzon Artificial Eye is also on six nominations, for Parasite (four), Only You and Portrait Of A Lady On Fire (both one).
Nominations by distributor
Netflix (23)
American Factory (1)
The Great Hack (1)
The Irishman (10)
Klaus (1)
Marriage Story (5)
The Two Popes (5)
Sony (16)
A Beautiful Day in the Neighborhood (1)
Little Women (5)
Once Upon a Time… in Hollywood (10)
Entertainment One (12)
1917 (9)
Booksmart (1)
Sorry We Missed You (1)
Wild Rose (1)
Warner Bros (11)
Joker (11)
Disney (10)
Avengers: Endgame (1)
Frozen 2 (1)
Le Mans '66 (3)
The Lion King (1)
Star Wars: The Rise of Skywalker (3)
Toy Story 4 (1)
Curzon Artificial Eye (6)
Parasite (4)
Only You (1)
Portrait of a Lady on Fire (1)
Fox Searchlight (6)
Jojo Rabbit (6)
Lionsgate (5)
Bombshell (3)
Knives Out (1)
The Personal History of David Copperfield (1)
Paramount (4)
Rocketman (4)
Pathé (4)
Judy (3)
Pain And Glory(1)
Republic Film Distribution (4)
For Sama (4)
BFI Distribution (2)
Bait (2)
Universal Content Group (1)
Apollo 11 (1)
Dogwoof (1)
Maiden (1)
Altitude (1)
Diego Maradona (1)
Siri Producciones (1)
Retablo (1)
StudioCanal (1)
A Shaun The Sheep Movie: Farmageddon (1)
Universal (1)
The Lighthouse (1)