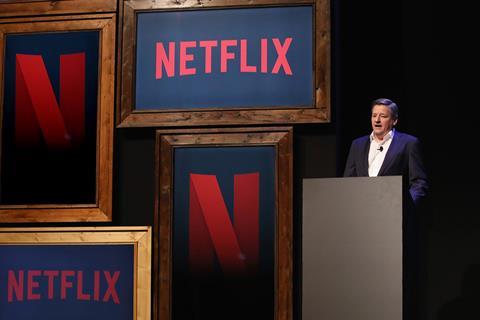 Netflix has reported just over 10m new global members on the day Reed Hastings announced the appointment of Ted Sarandos as co-CEO with an eye on long-term succession planning.
The streaming platform has performed strongly during the lockdown and the second quarter membership gain, reported on Thursday (July 16), beat its own forecasts to bring the overall total close to 193m. Revenue climbed 25% to $6.1bn in the quarter.
However the company expects a slowdown in the second half of the year and has forecast 2.5m new members in the third quarter, a predction that caused stock to drop nearly 10% in after-hours trading.
The promotion of Sarandos to co-CEO alongside CEO Reed Hastings was a formality, Hastings wrote in a company blog. Sarandos continues as chief content officer.
"Ted has been my partner for decades," Hastings said. "This change makes formal what was already informal – that Ted and I share the leadership of Netflix."
"Ted and I first met in October 1999 after I read an article in Video Business and asked a mutual friend to connect us," Hastings wrote. "We were just getting started and we needed someone with his deep experience in the video rental market.
"Ted's been instrumental to our success as a company. While I saw streaming coming and pushed for it, Ted drove the revolution in our content strategy, which was way ahead of its time and has been key to our continued success.
"It was typical of his ability to see where the industry – and consumer tastes – are headed. He's built an extraordinary team, attracting some of the most creative and best entertainment executives from all around the world. "
In addition Greg Peters has been promoted from chief product officer to COO.
Hastings continued, "In his new role, I want Greg to take on more of this work so that we continue to improve rapidly. Eventually he needs to know every corner of Netflix better than I do today."
The new titles for Sarandos, 55, and Peters are part of the long-term succession plan that Hastings, 59, is putting in place.
"While transitions can be hard, I am optimistic because we have a well established culture that's built to be flexible and many years to get good at this," the CEO added.
"I'm committed to Netflix for the long term. Here's to the next decade of great storytelling, better recommendations and a service that we hope brings joy, escape and a sense of connection to hundreds of millions of members around the world."