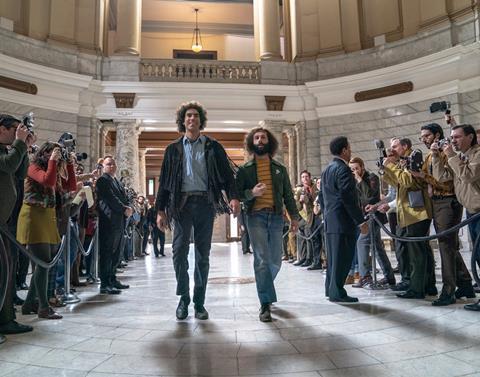 The spate of studio films bypassing theatrical releases and going to streaming platforms is a short-term opportunity for Netflix and does not augur a change in strategy, co-CEO Ted Sarandos said on Tuesday (October 20).
In a wide-ranging recorded interview with senior executives that posted online after the company released its third quarter figures, Sarandos touched on production and reverse licensing, while CFO Greg Peters spoke of a free trial scheme that will start in India.
Asked by an analyst whether the move by studios to bypass theatrical releases during the pandemic and offload some films to streamers presented an acquisitions opportunity, Sarandos referred to acquisitions of The Trial Of The Chicago 7 (pictured) from Paramount and Enola Holmes from Legendary Entertainment.
"Healthy pipeline of films coming out"
"It's pretty short-term opportunistic," he said, adding: "We have a very healthy pipeline of films coming out already in the rest of this year and next and '22.
"But we're looking at all of them [available studio films] and we'll be at the table, but I would look at it as a fairly short-term opportunity while the studios refigure how they're going to release films… We'll pick up some, not all, but well certainly be in the mix."
Earlier in the interview, Sarandos was asked about reverse-licensing and said there was no strategy to do this on the day when all five seasons of Narcos debut on PlutoTV.
"Mostly it's helpful for us to keep our original content on Netflix"
"We don't own that show [Netflix] – Gaumont does – and the deal that they did [with PlutoTV]… it will be interesting to see if it lifts the awareness and interest in Narcos, but it's on a relatively small platform relative to Netflix," he said.
Prior to that comment he said, "Mostly it's helpful for us to keep our original content on Netflix so people understand the value proposition of Netflix.
"We have seen our ability to grow a show that was on another network or outlet pretty meaningfully, but we've not necessarily seen it the other way around when we've experimented in the past, with things like Narcos when we licensed it to Univision in the past to get people to try to sample the show."
The co-CEO also spoke about the return to production. Netflix said on Tuesday since the shutdown it has completed principal photography on more than 50 productions and was "optimistic" it will complete shooting on more than another 150 by the end of the year.
"All that ramp-up puts us back to nearly fully operational in most parts of the world," Sarandos said. "Those productions may go a little slower than we had planned, but materially we are back in business in production in most places of the world, including North America, [which has] come on slower.
"Looking at the '21 slate, everything that we have forecast for '21 we expect to hit in '21 with a few minor exceptions… but we plan on it all coming out."
Sarandos continued, "The thing that we've really been amazed by its the adaptivity of our production communities to step up to the plate in these new Covid protocols and get the work done, and in such an incredible way, and so safely.
"We've had a few shutdowns and we're in a place right now where we should expect that to happen… and the art of it is how quickly and safely can you reopen. We've been going through that in different parts of the world every day.
"But right now I'd say we're back to near steady state in physical production."
Netflix CFO Greg Peters said the company will offer free weekend trials in every country, starting with India. Peters did not say when the trial would start.