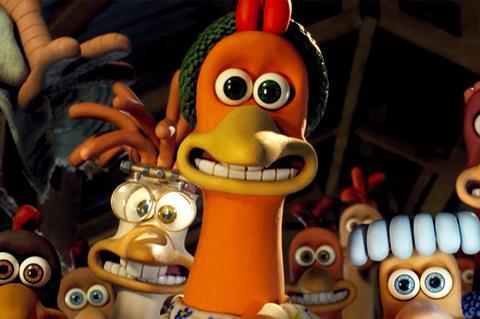 Netflix has swooped on stop-motion animation sequel Chicken Run 2, which UK animation powerhouse Aardman will begin making in 2021.
The streaming giant will release the film globally, excluding China, and was announced during an 'Annecy Making Of' panel on the animation festival's digital platform.
It also marks the 20th anniversary of the release of Chicken Run, which is the highest-grossing stop-motion animated film of all time, grossing $224.8m worldwide following its release in 2000.
The sequel will be directed by Sam Fell (Flushed Away, ParaNorman), produced by Steve Pegram and scripted by Karey Kirkpatrick, John O' Farrell and Rachel Tunnard. The executive producers are Peter Lord, Carla Shelley and Karey Kirkpatrick, while Oscar-winner Nick Park – creator of Wallace and Gromit and Shaun The Sheep – will take a consulting role.
Chicken Run 2 returns to lead characters Ginger and Rocky, who escaped from a farm in the first film and have settled on a peaceful island sanctuary. But after hatching a chick, named Molly, and hearing of a new threat to their kind back on the mainland, they plan to return and save their fellow chickens.
Aardman co-founder and creative director Peter Lord said: "Fans around the world have waited patiently for a sequel idea worthy of Chicken Run so we're delighted to announce, on the 20th anniversary, that we've found the perfect story.
"Netflix feels like the ideal creative partner for this project too: they celebrate the film-maker, which means we can make the film we want to make – the one we really care about – and share it with a global audience."
The Bristol-based studio is also working on its first project with Netflix, Robin Robin, a 30-minute Christmas musical featuring an all-new cast of characters and set to debut in late 2021.
Aardman is also working on a new Wallace and Gromit story titled The Big Fix Up, which has been developed in collaboration with Fictioneers – a collective of UK creative companies including Potato, Sugar Creative and Tiny Rebel Games, with support from the University of South Wales – which will use augmented reality technology.