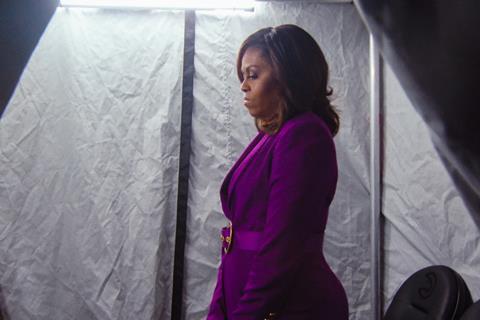 Netflix will debut Michelle Obama documentary Becoming, which the streaming platform has kept secret until now, on May 6.
The Netflix Original Documentary is presented in association with the Obamas' Higher Ground and Big Mouth Productions.
Nadia Hallgren makes her feature directorial debut, and the producers are Katy Chevigny, Marilyn Ness, and Lauren Cioffi. Priya Swaminathan and Tonia Davis are executive producers, and Maureen A. Ryan served as co-producer.
Becoming, which is also the name of Obama's bestselling autobiography, follows the former First Lady on a 34-city tour and reflects on her life including two terms of the Barack Obama presidency.
"I've been a documentary cinematographer for 15 years and my focus has always been the craft of cinema vérité," said Hallgren. "To make this film feel intimate I knew I had to get close. In practical terms, that can be a hard thing to do with Michelle Obama. For security reasons alone, she's flanked by Secret Service everywhere she goes. She moves quickly and I had to learn to move with her — I filmed in tight, private spaces in a way that required the smallest possible footprint, but also allowed me to build a close relationship with her."
She continued, "I hope this film will speak to different people in different ways — that it will say one thing to a teenager and another to a person over 70. That audiences will get a sense of the energy in those arenas. There was a buzz of joy and excitement in the air that I hadn't felt in a long time. The moment felt historic, like we were all together witnessing something we knew we'd carry with us forever."
Hallgren's documentary short After Maria was shortlisted for an Oscar. She won the special jury prize at SXSW in 2018 for the series Just The Ticket.