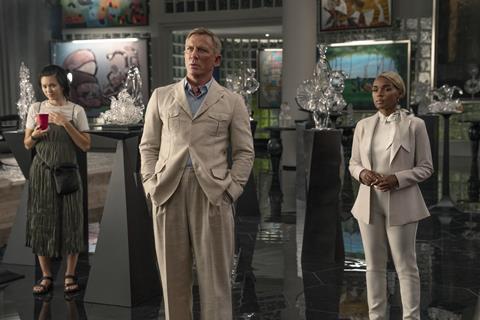 Netflix comfortably surpassed its subscriber growth targets in the final quarter of 2022, adding 7.7m subscribers to beat projections of 4.6m and reach 230.75m global paid members.
The company's Q4 2022 financial and subscriber results were released along with the announcement that co-founder Reed Hastings is moving from his co-CEO role to become executive chairman, with Greg Peters joining Ted Sarandos as co-CEO.
Revenue for Q4 was $7.82bn, up 2% from the same period in 2021, and down slightly on Wall Street analysts' projections of $7.85bn. However earnings per share of 12 cents were considerably below the Street's forecasts of 45 cents and well behind the year-ago figure of $1.37, reflecting challenges faced by streamers on the path to profitability.
Operating income was $550m in Q4, down from $632m in the year-ago period.
Overall the results increased the value of Netflix shares in after-hours trading by 9.5% from $315.54 to $345.63 before settling on an increase closer to 6%.
By region the United States and Canada added 910,000 subscribers for 74.3m; while membership across Europe and Middle East grew by 3.2m for 76.73m; Latin America added 1.76m for 41.7m; and Australia Pacific added 1.8m for 38.02m.
Netflix launched its ad-supported plan in the fourth quarter at a $6.99 monthly price point in the US. The Basic With Ads tier is currently available in 12 countries and is an important plank in the streamer's revenue growth strategy. Future expansion will be a big test for Peters, who has been deeply involved in the project.
The company said in a statement, "We believe branded television advertising is a substantial long term incremental revenue and profit opportunity for Netflix, and our ability to stand up this business in six months underscores our commitment both to give members more choice and to reaccelerate our growth."
Netflix described engagement with the ad tier as "better than what we had expected", adding: "While it's still early days for ads and we have lots to do (in particular better targeting and measurement), we are pleased with our progress to date across every dimension: member experience, value to advertisers, and incremental contribution to our business."
In its forecast for Q1 2023, the company said revenue will grow 4% to $8.17bn – marking an 8% growth when discounting foreign currency fluctuations. Netflix is not offering subscriber projections, but said the 4% figure translates to a "modest positive paid net adds" in Q1 2023, compared to the 200,000 subscriber decline in Q1 2022.
Another key element of revenue growth is 'paid sharing'. Having tested the model in Latin America, Netflix expects to roll it out in additional markets. "We expect some cancel reaction in each market when we roll out paid sharing, which impacts near term member growth," read the statement. "But as borrower households begin to activate their own standalone accounts and extra member accounts are added, we expect to see improved overall revenue, which is our goal with all plan and pricing changes."
Key viewership drivers for the fourth quarter of 2022 included Rian Johnson's whodunnit sequel Glass Onion: A Knives Out Mystery, which has become one of Netflix's 10 most popular English-language films ever. The murder mystery ensemble got an exclusive one-week theatrical release in select territories prior to its debut on the platform. In the US it played the three top circuits of AMC, Regal and Cinemark – an unprecedented achievement for a Netflix theatrical release – reportedly earning in the region of $13m from around 600 venues in its first five days.
Fellow Q4 2022 release Harry & Meghan is its most popular documentary series ever.