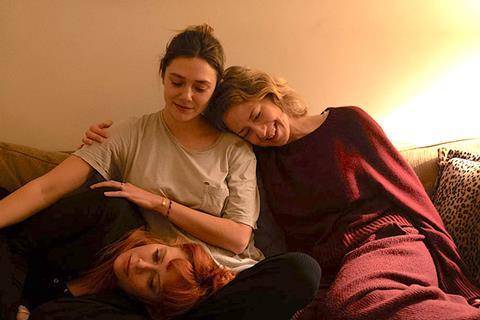 Netflix has acquired worldwide rights to Azazel Jacobs' His Three Daughters in its fourth acquisition of a 2023 TIFF film.
The streamer reportedly paid in the $7m region following negotiations with CAA Media Finance on behalf of the filmmakers.
Natasha Lyonne, Elizabeth Olsen, and Carrie Coon star in the story of sisters who gather at the family homestead for the last days of their father's life.
The film garnered strong reviews out of Toronto and would appear to be be a likely awards season play. At time of writing Netflix had not elaborated on when it will debut on the service, nor whether the drama will enter this awards season.
Jacobs (French Exit, The Lovers) wrote the screenplay and produced with Alex Orlovsky, Duncan Montgomery, Lia Buman, Marc Marrie, Mal Ward, Matt Aselton, Tim Headington, Jack Selby, Diaz Jacobs.
Executive producers on the High Frequency Entertainment, Arts & Sciences, Tango, Animal Pictures, Talkies Inc, and Case Study Films production are Olsen, Coon, Lyonne, Danielle Renfrew Behrens, Maya Rudolph, Peter Friedland, Neil Shah, and Sophia Lin.
As previously reported, the streamer also picked up TIFF titles Hit Man, Woman Of The Hour, and Mountain Queen: The Summits Of Lhakpa Sherpa.