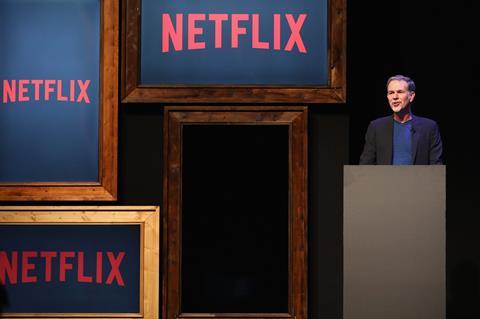 Streaming titan Netflix said on Monday that the budget for content in 2018 could fall in the $7-8bn range, higher than previously thought.
While it remained unclear how much of the 2018 allocation will go to original content versus licensing, the announcement was not surprising given the recent subscription price hike.
In an interview with investors, chief content officer Ted Sarandos said the streaming platform was aiming to release approximately 80 original films in 2018.
"They range anywhere from the million-dollar Sundance hit, all the way up to something on a much larger scale," like Will Smith-starrer Bright," Sarandos said. Bright is scheduled to debut worldwide on December 22.
Discussing third quarter results, the company said it beat expectations and added 5.3million members worldwide in the third quarter – 850,000 members in the US for 52.77m and 4.45m internationally for 56.48m.
Third quarter revenue reached $2.99bn, representing a 30% rise over the same period in 2016. The stock price crossed $200 for the first time last Friday. CEO Reed Hastings said in a letter to shareholders he expected annual revenue to reach $11bn and said the company had $17bn in content commitments in the coming years.
As has been reported previously, Netflix does not release viewership information and there is no way of independently verifying any claims by company employees as to the success or popularity of its content. The streaming service is understood to have a $20bn debt load.
Netflix CEO Reed Hastings said in a note to investors that the decision by Disney and other content creators to keep their films and TV shows off Netflix would not have any sudden impact on the service.
"While we have multi-year deals in place preventing any sudden reduction in content licensing, the long-term trends are clear," Hastings said. "Our future largely lies in exclusive original content that drives both excitement around Netflix and enormous viewing satisfaction for our global membership and its wide variety of tastes."
In the fourth quarter, Netflix expects to add 6.3million subscribers, less than the same time a year ago possibly due to slower uptake once the latest price hikes have been implemented.