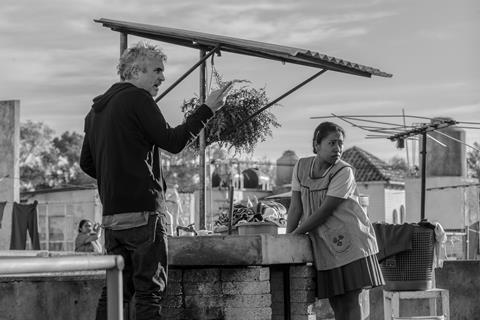 In a significant strategy shift as it seeks a coveted first best picture Oscar nomination, Netflix has unveiled global theatrical release plans on awards contenders ROMA, The Ballad Of Buster Scruggs, and Bird Box.
All three will receive awards-qualifying theatrical releases across the US and select international markets ahead of their global debuts on Netflix, and the goal is to remain in theatres for three to six weeks.
In the US Netflix will work mostly outside the major circuits, with whom it maintains an uneasy relationship given its refusal to kowtow to traditional windows. The UK partner is Curzon Cinemas, with whom Netflix has worked before and is collaborating on David Mackenzie's TIFF opener Outlaw King, which opens theatrically this weekend in the US and UK.
After the announcement came out on Wednesday (31), attention turned to which titles might receive similar treatment in 2019, with the focus on Martin Scorsese's mob epic The Irishman, Steven Soderbergh's journalism drama The Laundromat, and Dee Rees' crime mystery The Last Thing He Wanted.
Alfonso Cuaron's Venice Golden Lion winner ROMA will open in exclusive limited theatrical engagements starting on November 21 in Los Angeles, New York and Mexico.
Additional engagements on the Mexico City-set family drama starring Yalitza Aparicio are set for US markets and London, starting on November 29. The plan is to expand into the top 10 US markets and select international territories understood to include Germany, Italy, Scandinavia and Japan, starting on December 7.
The US and international footprint expands again on December 14, when the film debuts on Netflix. In total, ROMA will be released theatrically in more than 20 territories globally, and it is understood 70mm presentations also being planned.
The Ballad Of Buster Scruggs from Joel and Ethan Coen will get exclusive limited theatrical engagements starting on November 8 in Los Angeles at The Landmark, New York at The Landmark at 57 West, San Francisco at the Embarcadero Center Cinema, and an unspecified Curzon site in central London. The western anthology will be released globally on Netflix on November 16, when it will get an expanded theatrical release in additional US cities, Toronto, and Europe. Liam Neeson, Tim Blake Nelson, Tyne Daly and Zoe Kazan are among the cast.
Bird Box, a horror-thriller starring Sandra Bullock and Sarah Paulson, will get exclusive limited theatrical engagements starting on December 13 in Los Angeles, New York, San Francisco, and London. The film will be released globally on Netflix on December 21, when it expands in the US and Europe.
Susanne Bier's film will receive its world premiere at AFI FEST on November 12 and takes place in a world where a mysterious force has decimated the world's population, killing anybody that sees it. Against this backdrop, a woman and her two children must embark on a perilous journey, blindfolded, in search of sanctuary. The cast includes Trevante Rhodes, with Sarah Paulson, and John Malkovich.
This week Screen revealed that E-Stars will distribute theatrically in China in a separate deal struck with ROMA's producer-financier Participant Media. Netflix does not operate in China.
"These upcoming engagements are following the success of our theatrical and Netflix releases of Private Life and 22 July," said Scott Stuber, head of Netflix's film group. "There's been an overwhelming response to all of our films this festival season, including Outlaw King, which will be in theatres and on Netflix next week, and this plan is building on that momentum.

"Netflix's priority is our members and our filmmakers, and we are constantly innovating to serve them. Our members benefit from having the best quality films from world class filmmakers and our filmmakers benefit by being able to share their artistry with the largest possible audience in over 190 countries worldwide."
Netflix titles Private Life and 22 July are currently in select US and international theatres.