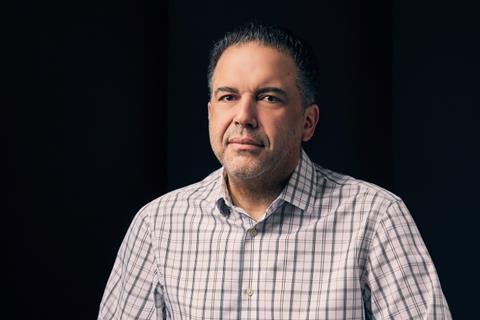 Netflix's German historical Roman era epic Barbarians and Swedish crime drama Quicksand are among some of the most notable international series to catch on with the platform's Latin America audiences, a Ventana Sur online panel heard this week.
In a 20-minute session titled Netflix Between The Pandemic And The OTT Ecosystem, Francisco Ramos, the service's vp of Spanish-language originals in Latin America who has been doing the festival rounds (he spoke at San Sebastian recently), said while the plan was to develop Latin American success stories, popular shows from other parts of the world enriched the local offering.
To that point, Ramos noted that Mexican mystery series Dark Desire (Oscuro Deseo) has been "a success in every part of the world" during the pandemic and has been greenlit for another season, while Mexican hacking drama Control Z has also travelled well.
Recent film successes in Latin America have included Marcos Carnevale's comedy So Much Love To Give (Corazon Loco) and Sebastián Schindel's crime drama The Crimes That Bind (Crimenes de Familia) from Argentina, as well as Mexican hits like rom-com You've Got This (Ahi Te Encargo) from Salvador Espinosa, and family comedy Dad Wanted (Sa Busca Papi) from Javier Colinas.
"Diversity is still crucial for us because it's what our members so eagerly ask from us," the executive said, noting that in the five or six years since Netflix started producing original content in Latin America TV became the early specialty, although that could change.
"We've come a long way with series. Now it's the turn of film. Also, we'll improve the offering on documentaries – either series or feature films. We're not just interested in quantity: our main interest is to expand a diversity of visions, topics and points of view."
Asked whether the production halts brought on by the pandemic created a content vacuum, Ramos disagreed and said schedules are planned months in advance.
"[R]egarding the impact of the pandemic and the calling off of productions in some regions, as the pandemic affected different areas in different ways, we stopped producing in Latin America after we stopped in Europe, but we resumed earlier there, so productions from Asia and Europe kept coming," he said.
"Latin American productions resumed a couple of months ago, so the negative impact on our programming was minimal and unnoticeable."
Asked to offer advice to watching producers on what appeals to Netflix, Ramos replied: "Bottom line the most important thing is their point of view. Having a different look, the authenticity, is what generates interest on the local front, in the country where the series of movie was shot, and also its ability to travel. That's what makes it unique and it allows viewers from other countries and continents to watch and believe what people in other places feel and go through.
Looking at the remainder of the year Ramos highlighted Selena, the biopic of the late Mexican-American Tejano singer Selena Quintanilla-Perez that recently debuted on the platform, as a show he was proud of.
"I believe it pays respect not only to the legacy of her music, but to Selena's vitality and the story of her life and her family," he said. "The story of her success, for Latinos and Latinas in the US, is very important to tell now.
The executive welcomed competition from new streaming platforms as something that "pushes us to become better at what we do", and noted that it was important for Netflix to be on bundles in the region, as they offered another opportunity for potential audiences to sample the offering.
He also said that original production was not the be-all and end-all. "We will continue working on licensing deals and co-productions because we can't expect to be the owners of all the best ideas in the world."