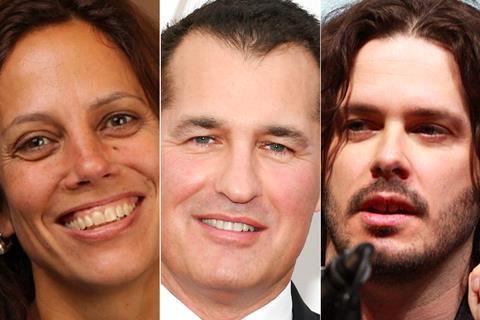 Scott Stuber, the Los Angeles-based head of global film at Netflix, producer Elizabeth Karlsen of Number 9 FIlms, and Last Night In Soho writer, director and producer Edgar Wright are among five new members appointed to the board of the British Film Institute (BFI).
Each will serve four-year terms starting from May 2022.
They are joined by Laura Miele, executive vice president and COO of Electronic Arts (EA); and Monica Chadha, a board advisor and consultant.
BFI chair Tim Richards worked with the Department of Digital, Culture, Media and Sport (DCMS) on the recruitment process.
The five join Michael Birshan, Idris Elba, Gerry Fox, Jay Hunt, Robin Saunders, Andrew Smith, Phil Stokes and Nell Whitley on the BFI board.
"The completion of the BFI's board of governors is an important milestone in the BFI's transformation into a dynamic, digital-first organisation, with a new executive team led by chief executive Ben Roberts," said a statement from the BFI.
Speaking of the board appointments, Richards said, "Their knowledge and experience across film, television, games, technology and business combined with that of our existing governors, will be invaluable to the BFI and the industry as a whole."
"It's an exciting year for the BFI, as we develop and launch our 10-year strategy under a new leadership team," added Roberts.
The BFI's new 10-year corporate plan and National Lottery funding strategy is due to be announced in the autumn and come in to effect froom April 2023. A second round of industry consultation is set to be launched later this month. The new strategy, that succeeds the five-year BFI2022 (extended for a year due to the pandemic), is intended to transform the BFI and its support for the indutstry and will take the organisation through to its centenary in 2033.
Playing their part
While at Netflix, Stuber has overseen titles including The Power Of The Dog, The Irishman, Marriage Story and Roma; while he was previously vice chairman of worldwide production at Universal Studios.
"It's a privilege to be appointed a governor of the BFI, an institution I have long admired," sadi Stuber. "I wholeheartedly endorse their mission to promote the next generation of UK storytellers, widen access to screen culture and support the continued growth of this extraordinary sector. Our industry is in a state of constant evolution and I look forward to playing my part in ensuring the BFI remains best situated to champion its past, present and future.
UK producer Karlsen co-founded Number 9 Films in 2002 with partner Stephen Wooley, and has produced independent hits including Carol, The Crying Game, Made In Dagenham and Colette. Her latest features are Cannes 2021 title Mothering Sunday and Oliver Hermanus' upcoming Living.
"The BFI has played a central role in my, and my producing partner Stephen Woolley's, professional careers over the last few decades, whether through the joy and excitement of seeing films and having films premiere at the London Film Festival, watching films at the BFI Southbank, engaging in discussions about the development and production of films or lending my own expertise to its various training and regional programmes," said Karlsen. "it has been an institution with a constant presence. I am honoured to have been selected to the Board of Governors and look forward to 'giving back' to an organisation that has given so much to so many and has so much more to give as it navigates the seismic and exciting changes impacting the industry."
Wright's credits include the Three Flavours Cornetto trilogy of comedies, Shaun of the Dead, Hot Fuzz and The World's End. He has gone on to direct features including Baby Driver and last year's Last Night In Soho.
"The BFI is very close to home for me, as not only do I share the BFI's comprehensive passion for film, television and other visual arts, but I am a regular paying customer at their glorious Cinematheque, the BFI Southbank, which is truly one of the greatest cinemas on the planet and a reminder to anyone who sits inside what a moving and inspiring communal experience film can be," said Wright.
"Having had a front row seat at this fabulous institution and their accompanying London Film Festival for almost 30 years of living in the city, as well as being an enthusiastic consumer of their amazing range of both classic and lesser known gems on DVD and Blu-ray, I'm excited to see what I can do to help promote their incredible efforts in curating, preserving, producing and educating. They represent the best in both celebrating the history of film and shaping the future of the medium, so I'm thrilled to be invited to contribute where I can."
Miele has worked as a technology and media executive for over 25 years, and is responsible for EA's worldwide operational effectiveness and acceleration of long-term growth; while Chadha has over 25 years' experience advising creative organisations including the International Union of Cinemas (UNIC), the British Association for Screen Entertainment (BASE) and the Digital Entertainment Group Europe (DEGE).
The DCMS is expected to announce three further board members representing Northern Ireland, Wales and Scotland later this year.