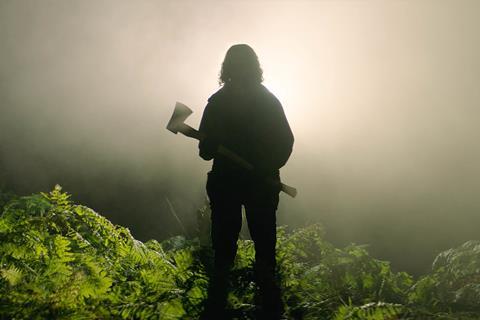 UK director Ben Wheatley's in The Earth is among the competition contenders in this year's 20th Neuchâtel International Fantastic Film Festival which will take place as a hybrid edition from July 2-10 in Switzerland.
It is taking place under the interim directorship of Loïc Valceschini before a new head, Pierre-Yves Walder, takes up the reins in July.
The event includes 55 films, eight short film programmes, eight immersive installations and two TV productions. Among the special guests will be legendary VFX artist Volker Engel, best known for his work on films Godzilla, Independence Day and White House Down.
The competition has 14 international movies competing for the H.R. Giger Narcisse award, consisting of CHF 10,000 ($10,928) given by the City of Neuchâtel. In addition to In The Earth, the contenders include Dash Shaw's Cryptozoo, Jaco Bouwer's Gaia, Tim Fehlbaum's Tides and Lee Haven Jones' The Feast.
The festival will have a strong Asian component including the Cinema From Asia competition that includes the Swiss premiere of Cho Kyung-hun's Beauty Water. The fetsival will be highlighting Taiwanese film through its Formosa Fantastica programme.
The Films Of The Third Kind secton is showcasing a range of films exploring the boundaries of fantasy. Polish director Daria Woszek is attending Neuchâtel to present Marygoround, while US documentary filmmaker Rodney Ascher will present A Glitch In The Matrix. Two European premieres are also included: Ken Ninomiya's Tonkatsu DJ Agetaro and Wild Men from Thomas Daneskov.

Meanwhile, The Ultra Movies section is dedicated to extreme films . It includes French director Mathieu Turi's Meander and James Ashcroft's Coming Home In The Dark.
Conferences and talks exploring fantasy and the audiovisual industry are held within the NIFFF Extended Programme. Volker Engel will be discussing his work on Godzilla as part of a conference dedicated to the evolution of the effects used to give life to the legendary monster. Representatives from the Juice studio will present a case study of the Trioscope, an innovative technology driven by the Netflix show The Liberator, while the rebirth of French- speaking genre TV series will be the topic under discussion in a talk with screenwriters Marie Enthoven, Nicolas Peufaillit and Charlotte Sanson.