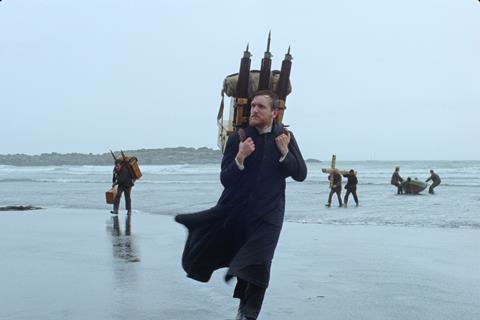 New Europe Film Sales has boarded Icelandic writer/director Hlynur Palmason's Godland, a feature that was shot in Iceland under the radar in 2021 and has today been confirmed for Cannes' Un Certain Regard.
New Europe also sold the director's first two features, Winter Brothers and A White, White Day, as well as his latest short NEST, which premiered at Berlinale 2022.
Godland is set in the late 19th century, when a young Danish priest (Elliott Crosset Hove) travels to a remote part of Iceland to build a church and photograph its people. But the deeper he goes into the unforgiving landscape, the more he strays from his purpose, his mission and morality.
Screen can exclusively reveal the film's first image above.
Godland is produced by Katrin Pors, Eva Jakobsen and Mikkel Jersin of Denmark's Snowglobe and Anton Máni Svansson of Iceland's Join Motion Pictures. The companies previously collaborated on A White, White Day and NEST. Svansson has been collaborating with Palmason since his 2014 short Seven Boats.
"This stunning period film is an organic continuation of Hlynur's work," said Pors and Svansson in a statement. "With Godland, Hlynur again explores family bonds, and the acceptance of myth and spirit. It's about humanity and nature, and how these things collide, through man, animal, and the world around us. Furthermore, it combines perfectly the Danish and Icelandic side of Hlynur and plays with the cultural differences and miscommunications."
Co-producers are Didar Domehri of Maneki Films (France), Anthony Muir and Peter Possne of Film I Väst (Sweden), Mimmi Spång of Garagefilm International (Sweden) and Iceland's Guðmundur Arnar Guðmundsson. Backers include Danish Film Institute, Icelandic Film Centre, CNC, Swedish Film Institute, Nordisk Film & TV Fond, Creative Europe MEDIA, Hornafjörður Municipality, SASS, DR, RUV, Sena, Scanbox and New Europe Film Sales.
Palmason was last in Cannes in 2019 with his second feature, A White, White Day which screened in Critics' Week and earned actor Ingvar Sigurðsson the rising star award.
Pálmason is working again with regular collaborators including DoP Maria von Hausswolff, editor Julius Krebs Damsbo and a group of actors he has worked with before: Crosset Hove and Vic Carmen Sonne from Winter Brothers and Sigurðsson from A White, White Day, as well as the director's daughter, Ída Mekkín Hlynsdóttir, who also appeared in A White, White Day and NEST. The cast also features Jacob Hauberg Lohmann, Waage Sandø and Hilmar Guðjónsson.
Jan Naszewski of New Europe added: "We are excited to follow Hlynur's career and to be attached to Hlynur's unique universe. He is a one-of-a-kind filmmaker who brings us this very contemporary tale that, set in XIX century, resonates with today's landscape. It's incredible to watch Lucas tested to his limits amidst stunning Icelandic nature. It's another step up in Hlynur's career and we're proud to keep working with him on this epic film."