EXCLUSIVE: Paris-based company reshuffles sales team as Carole Baraton steps down as head of sales.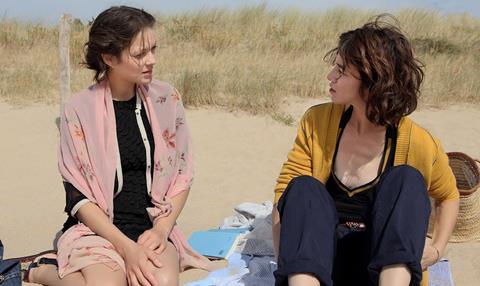 Wild Bunch will launch sales on new films by Jean-Luc Godard, Christian Carion, Michel Ocelot, Raymond Depardon as well as a feel-good, Senegal-set drama starring Omar Sy at Unifrance's upcoming Rendez-vous with French Cinema in Paris (Jan 12-16).
The event will also mark the first outing for the company's reconfigured sales team following Carole Baraton's decision to step down as head of sales to set-up her own company.
Baraton's long-time territories the US, France and the UK will be carved up between the sales team, now consisting of Silvia Simonutti, Emilie Serres, Olivier Barbier, recent hire Fanny Beauville and Esther Devos for festivals.
Notably, Beauville will co-handle Canada and the US in partnership with LA's Creative Artist Agency (CAA), working closely with the agency's film finance and sales group co-chief Roeg Sutherland and his team.
Bilingual Sutherland, who has a long history of working with Wild Bunch, will also attend the Rendez-vous this year.
Under the changes, Wild Bunch co-chief Vincent Maraval will continue to be responsible for acquisitions and marketing and will also take on Baraton's role as head of sales until a replacement is found.
Maraval will also continue selling US financed productions through the Los Angeles sales company Insiders he set up in 2015 and amalgamated with Marc Butan and Kim Fox's MadRiver Pictures in 2016 to create IMR International, in which Wild Bunch has a 45% stake.
A new chief for the high-end TV department Wild Bunch TV set up by Baraton is currently in the process of being hired.
New titles, Cannes hopefuls
As per company tradition, Wild Bunch will start rolling out its French slate at the Rendez-vous, launching sales on eight new titles.
Productions that will be ready in time for consideration for Cannes include K.O., the second feature of Fabrice Gobert, creator and director of the cult French series The Returned (Les Revenants).
Laurent Lafitte, seen most recently as Isabelle Huppert's suave tormentor in Elle, plays an arrogant TV executive who awakes from coma after being attacked by a disgruntled employee to discover his position in life has been inexplicably reversed.
"It remains close to Gobert's universe, mixing fantasy and reality… you're never quite sure which reality is the real one," says Maraval.
Patrick Blossier, Gobert's cinematographer on The Returned, is attached to the project. Other cast members include Chiara Mastroianni and Pio Marmai. Wild Bunch will show a promo-reel at the market.
The company will also promo-reel Christian Carion's upcoming thriller My Son starring Guillaume Canet as a high-flying, always-on-the-road executive who is forced to re-appraise his priorities when his seven-year-old son disappears, setting him on a perilous journey to get him back.
Maraval notes that the film marks a departure for Carion after elaborate historical dramas such as Come What May and Joyeux Noel. It is produced by Christophe Rossignon and Philip Boeffard at Nord Ouest whose past credits include Stephane Brizé's The Measure Of A Man.
"Carion wanted to do something different. He didn't give Canet the script, he wasn't allowed to mix with the cast and crew and he never saw the locations ahead of shooting the scene," explains Maraval.
Canet's scenes were shot over an intense six days with the actor working from Carion's directions and in response to unseen locations, rather than from a script.
As well as the promo-reel, Wild Bunch will also show footage of Canet speaking about the experience on the final day of the shoot.
Cult African comedy
Other soon to be completed titles on the slate include Welcome To Gondwana, a big-screen spin-off of the cult, satirical African radio show La République Très Très Démocratique Du Gondwana by Nigerian humourist Mamane (aka Mohamed Mustapha).
French actor Antoine Gouy joins a high-profile African cast — led by Ivorian stars Michel Gohou, Digbeu Cravate and Central African Republic actress Prudence Maidou — in the role of an idealistic Frenchman who is plunged into deepest Africa when he gets caught-up in a highly contested presidential election campaign.
Wild Bunch Distribution will release the film in France in April. It is produced by Eric and Nicolas Altmayer under their Paris-based Mandarin Cinema banner.
"Initially we'll be focusing on the African community among which the Gondwana radio show has cult status but our hope it will spark the curiosity of other audiences and build from there," says Maraval.
It will world premiere at the L'Alpe d'Huez comedy film festival in the French alps in January.
In Production
Titles still in production include Godard's Image Et Parole exploring the Arab world. Mixing fact and fiction, it has been shot in various Arab countries, including Tunisia.
"He's being shooting it for nearly two years now. We were hoping it would be ready for Cannes but it won't be," says Maraval. "It's a reflection on the Arab world today among other subjects."
Wild Bunch will also launch sales on legendary photographer and filmmaker Raymond Depardon's latest exploration of contemporary France 12 Days.
The exact subject-matter is under wraps with Wild Bunch revealing only that it captures a world "where justice and psychiatry meet". It is currently shooting for completion later this year.
Upcoming dramas include Pierre Godeau's Raoul Taburin based on Jean-Jacques Sempé book about a reputed small-town bicycle salesman desperate to hide the fact he is incapable of riding a bike himself. Benoit Poelvoorde is attached to play the titular protagonist.
"It's in the spirit of Amélie, Little Nicholas, The Artist and Jacques Tati with a stylised 1950s, 60s look. It's very visual," says Maraval.
Philippe Godeau and Nathalie Gastaldo Godeau's Pan-Européenne is producing with Versus Production on board as co-producer. It is currently in pre-production.
At the same time, Philippe Godeau - whose director credits include 11.6 and One For The Road - is also gearing up for the shoot of the Senegal-set, feel-good drama YAO, starring Omar Sy as a visiting French actor of Senegalese descent who reconnects with his African roots when he travels across the country to return a young runaway fan to his home village. The film is in pre-production.
The company has also taken on sales of Michel Ocelot's sumptuous Paris Belle Epoque-set feature-length animation Dilili In Paris about a young Kanak girl who investigates a spate of mysterious kidnappings of young girls with the help of a delivery boy.
Previously announced titles
The company will also continue sales on a number of previously announced titles, including Michel Hazanavicius's Godard tribute Redoubtable, Arnaud Desplechin's Ismaël's Ghosts [pictured], Jacques Doillon's Rodin, and Michaël R. Roskam's Racer And The Jailbird. There will be new promo-reels for all of the upcoming features.
Rendez-vous Screenings
Wild Bunch will also market premiere Rachida Brakni's previously announced Visiting Ours, about a group of young women going through security checks as they visit relatives in prison, and Sylvie Verheyde's Sex Doll, about a high-class prostitute who falls for the wrong guy.
It is also organising a screening of Thierry Frémaux's tribute to cinema pioneers Auguste and Louis Lumière, Lumière!. Double-hatted Cannes Film Festival chief and Institut Lumière head Frémaux will live narrate the feature pulling together short films shot by the brothers between 1895 and 1905.