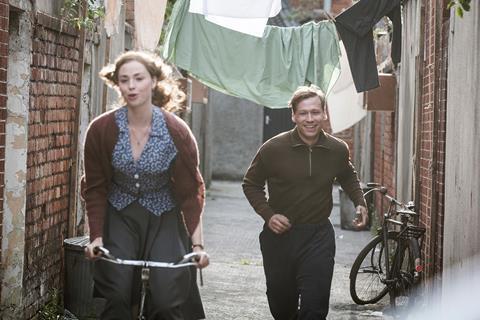 Ambitious new UK distribution outfit Parkland Entertainment, which was launched earlier this year by Parkland Pictures CEO John Cairns with former Arrow Films acquisitions director Tom Stewart, has made its first big pick-up.
The new company has acquired all UK rights to Trautmann, Marcus H Rosenmüller's biopic about Bert Trautmann, the former German soldier who became a professional footballer in the UK, from Beta Cinema.
Trautmann was the goalkeeper who played in the FA Cup Final with a broken neck, the former Nazi soldier who became an idol to thousands of Man City fans. The film also tells of the love affair between Trautmann and Margaret Friar, who first met when the daughter of the manager of a local football team visited a POW camp near Manchester. Together, the couple overcame prejudice, outrage and personal tragedy.
David Kross and Freya Mavor star in the film, which had its world premiere at the Zurich Film Festival last month. The deal was negotiated by Stewart, now acquisitions director of Parkland Entertainment, and Thorsten Ritter at Beta Cinema. Ritter describes the new company "as the most passionate and dedicated distributor you can wish for… They will do anything to make this film a success."
The film is a Lieblingsfilm and Zephyr Films production in association with British Film Company, SquareOne Entertainment, ARRI Media and ARD/Degeto. Robert Marciniak and Chris Curling together with Steve Milne produced. Trautmann will be released in the UK next year.