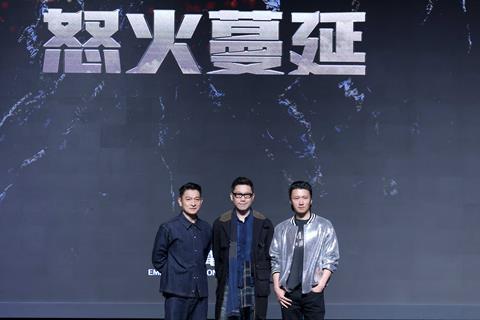 Hong Kong-based Emperor Motion Pictures (EMP) presented a massive line-up of 16 titles at Filmart, including actor Nicholas Tse's directorial debut New Police Story 2 and a further two action films also led by Tse.
This year marks the 20th anniversary of the first New Police Story, which was directed by the late filmmaker Benny Chan. The new feature reunites the original cast, including Tse, Jackie Chan and Charlene Choi, from the original film. Chan will produce for Tse who will direct for the first time.
The film is set to enter production this year, along with another two new projects also starring Tse: Derek Kwok's Nuo Fo Maan Yin, starring Andy Lau and Tse, and produced by Lau; and Mou Haan Yam Mou, with Dante Lam as director, Candy Leung as producer and Tse and William Chan in the cast. The English titles for both films are not yet available.
Another new project introduced by EMP is Yuen Kim Wai's The Moon Thieves, starring Anson Lo and Edan Lui from boyband Mirror with a special appearance from their bandmate Keung To. The film starts filming today in Japan so none could attend the Filmart showcase in person but shot a video greeting for market attendees.
Including the above-mentioned films, EMP presented a total of 16 films. These also include four tentpole films in post-production – Felix Chong's The Goldfinger, Dante Lam-produced Bursting Point, Alan Mak's Under Current and Herman Yau's Customs Frontline – and eight films by emerging directors such as Leung Kwok Fai, Chan Mou Yin, Terry Ng, Lo Yiu Fai and Benny Lau.
The showcase was well attended by the cast and crew of the various projects as well as by industry heavyweights who showed up as a gesture of solidarity. Prominent guests include Fu Ruoqing from China Film Company, Yu Dong from the Bona Film Group, Wang Zhonglei from Huayi Brothers, Louis Koo from One Cool, Raymond Wong from Mandarin Motion Pictures, Eric Tsang from TVB, Bill Kong from Edko Films and Daneil Lam from Universe.