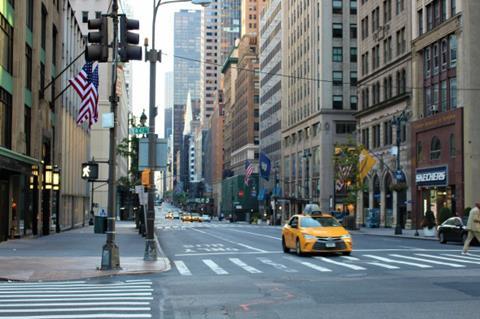 In a major boost to the stricken US exhibition community, cinemas in New York City will be able to reopen for the first time in nearly a year on March 5, New York state governor Andrew Cuomo said.
Cuomo announced the news at his daily briefing on Monday (February 22) and said sites could reopen at 25% capacity with a cap of 50 people in each screen.
Familiar social distancing and hygiene protocols will be in place, however testing will not be mandatory.
Exhibitor stocks shot up following the news. AMC finished the day around 9% up on 6.60 on the NYSE, while Cinemark stock increased by more than 6% to finish on 23.3.
New York City is the second largest cinema market in the US after Los Angeles, where cinemas remain closed.
There has been no news about reopening in Los Angeles, and the number of infections in Los Angeles Country continues to decline sharply since the latest surge over the December-January period.
Disney is set to release Raya And The Last Dragon day-and-date theatrically and on Disney+ Premier Access for an additional $29.99 on March 5. (It becomes available to Disney+ members at no extra cost on June 4.)
Disney/Marvel Studios' Black Widow is set to open theatrically on May 7 and Universal's F9 on May 28 although sources say executives may still be inclined to push those tentpoles further back into the year until cinemas are able to operate at higher capacities. Universal announced on Monday evening it was moving up its Bob Odenkirk thriller Nobody from April 2 to March 26.
The National Association of Theatre Owners (NATO) welcomed the development and said in a statement, "Stringent voluntary health and safety protocols have made it possible for cinemas across the country to operate safely and responsibly at higher capacity limits for many months without a single outbreak of Covid-19 being traced to movie theatres.
"New York City is a major market for moviegoing in the US; re-opening there gives confidence to film distributors in setting and holding their theatrical release dates, and is an important step in the recovery of the entire industry. We look forward to expanding the capacity from 25% to 50% in the very near future so that theatres can operate profitably."
Monday's announcement came after it was widely reported that the number of Covid deaths in the US crossed 500,000.
Early stages of state vaccination programmes are giving hope that the country will reach herd immunity later this year.