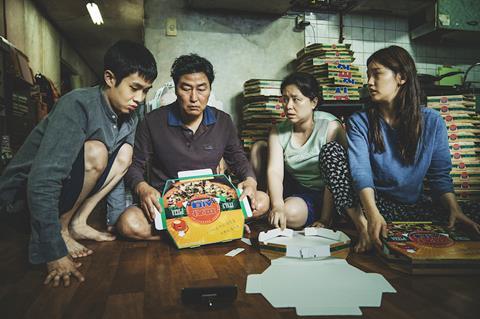 New York Film Festival brass have announced the full line-up, adding Bong Joon Ho's Palme d'Or winner Parasite, Céline Sciamma's Portrait Of A Lady On Fire, and Nadav Lapid's Golden Bear–winner Synonyms,to the roster.
Overall the slate encompasses films from 17 countries and includes Pedro Almodóvar's Pain And Glory from Spain, Juliano Dornelles' Cannes Jury Prize–winner Bacurau from Brazil, French auteur Olivier Assayas' Wasp Network, Mati Diop's Cannes Grand Prix–winner Atlantics: A Ghost Love Story, Kelly Reichardt's anticipated First Cow, and a posthumous screening of Agnès Varda's final film Varda By Agnès.
Festival director and chair of the selection committee Kent Jones said, "Cinema is the domain of freedom, and it's an ongoing struggle to maintain that freedom. It's getting harder and harder for anyone to make films of real ambition anywhere in this world. Each and every movie in this lineup, big or small, whether it's made in Italy or Senegal or New York City, is the result of artists behind the camera fighting on multiple fronts to realize a vision and create something new in the world. That includes masters like Martin Scorsese and Pedro Almodóvar and newcomers to the festival like Mati Diop and Angela Schanelec."
This year's festival poster is designed by Almodóvar, who said, "For the basis of this year's New York Film Festival poster, I used a photo of a still life that I exhibited at the Marlborough Gallery. The masses of color on which the text is printed are reminiscent of an animated sequence that appears in my latest film, Pain and Glory, though for this version I have chosen less bright colors, using muted shades of red, blue, green, and mauve. These colors correspond to the palette in which I seem to move lately."
As previously announced, the NYFF57 Opening Night is the world premiere of Martin Scorsese's The Irishman, the US premiere of Noah Baumbach's Marriage Story is Centerpiece, and the New York premiere of Edward Norton's Motherless Brooklyn will close the festival.
The 57th New York Film Festival Main Slate:
Opening Night
The Irishman
Dir. Martin Scorsese
World premiere
Centerpiece
Marriage Story
Dir. Noah Baumbach
Closing Night
Motherless Brooklyn
Dir. Edward Norton
Atlantics: A Ghost Love Story
Dir. Mati Diop
US premiere
Bacurau
Dir. Kleber Mendonça Filho and Juliano Dornelles
US premiere
Beanpole
Dir. Kantemir Balagov
Fire Will Come
Dir. Oliver Laxe
US premiere
First Cow
Dir. Kelly Reichardt
A Girl Missing
Dir. Koji Fukada
US premiere
I Was at Home, But…
Dir. Angela Schanelec
US premiere
Liberté
Dir. Albert Serra
US premiere
Martin Eden
Dir. Pietro Marcello
US premiere
The Moneychanger
Dir. Federico Veiroj
US premiere
Oh Mercy!
Dir. Arnaud Desplechin
North American Premiere
Pain And Glory
Dir. Pedro Almodóvar
Parasite
Dir. Bong Joon-ho
Film Comment Presents
Portrait Of A Lady On Fire
Dir. Céline Sciamma
Saturday Fiction
Dir. Lou Ye
US premiere
Sibyl
Dir. Justine Triet
US premiere
Synonyms
Dir. Nadav Lapid
US premiere
To The Ends Of The Earth
Dir. Kiyoshi Kurosawa
US premiere
The Traitor
Dir. Marco Bellocchio
US premiere
Varda By Agnès
Dir. Agnès Varda
Vitalina Varela
Dir. Pedro Costa
US premiere
Wasp Network
Dir. Olivier Assayas
US premiere
The Whistlers
Dir. Corneliu Porumboiu
The Wild Goose Lake
Dir. Diao Yinan
US premiere
Young Ahmed
Dir. Jean-Pierre and Luc Dardenne
North American Premiere
Zombi Child
Dir. Bertrand Bonello
US premiere
Festival brass will announced NYFF Special Events, Spotlight on Documentary, Convergence, Shorts, Retrospective, Revivals, and Projections sections, as well as filmmaker conversations and panels in the coming weeks.
The 57th New York Film Festival organized by Film at Lincoln Center runs from Sept. 27-Oct. 13.