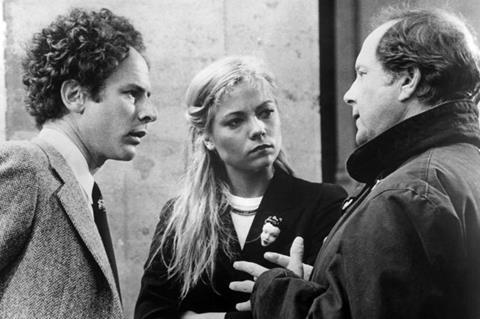 Award-winning UK producer Jeremy Thomas has paid heartfelt tribute to Nicolas Roeg, with whom he collaborated on films including Insignificance, Bad Timing and Eureka.

Roeg died aged 90 on Saturday (November 26).
"I will miss him forever. I had a 10-year lesson from him about everything," said Thomas, speaking from Rome this weekend. "He was one of the greatest, if not the greatest, director I worked with and he left a legacy of magnificent films."
As well as his directorial credits Thomas cited Roeg's work as a cinematographer on films such as The Masque Of The Red Death, Fahrenheit 451, and Far From The Madding Crowd and also his time as a camera operator for David Lean on Lawrence Of Arabia and Dr Zhivago. "He knew every area of cinema and how it worked," said Thomas.
Thomas had "hung around" the set of Performance, the film Roeg co-directed with Donald Cammell in the late 1960s (and that was eventually released in 1970.) As his own producing career began to take off a few years later, Thomas attempted unsuccessfully to recruit Roeg to direct Daphne Du Maurier adaptation, The Shout (the job was eventually taken on by Polish auteur Jerzy Skolimowski.) Although Roeg turned him down, the director said if Thomas could get the rights to a project called Illusions then held by Carlo Ponti, he would do it. This was made as Bad Timing (1980), the movie famously dismissed by its distributors Rank as "a sick film made for sick people for sick people."
"That was the beginning of my fantastic relationship with him," Thomas remembered.
They worked together on the Hollywood studio film, Eureka, a troubled production which was threatened with abandonment after disgraced studio executive David Begelman, who had championed the project, was forced to resign from United Artists. "[Eureka] was a child which was born which the parents didn't want but we got more than halfway. [The studio]had to complete it. They would have stopped it if they could."
The collaboration between Thomas and Roeg ended after the producer started working in Italy with the late Bernardo Bertolucci and in Japan with Nagisa Oshima. "But we remained the closest of friends. I maybe should have made more films with Nick."
Thomas added Roeg was an "accurate, professional filmmaker" who was responsible when it came to budgets and schedules. "[Roeg] wanted it like he wanted it, like very great director, but he was a joy to work with."
Neglected
However Thomas also criticised the UK film establishment for what he saw as its neglect of one its most visionary talents. He argued Roeg should be a "household name" but suggested his reputation did not keep pace with his achievements.
"[Roeg] was one of the major figures but he wasn't supported by the British film industry," Thomas claimed. "There is something about our culture that we don't revere our greatest filmmakers, especially if they remain at home and are very English as well as unusual."
Roeg received a BFI Fellowship in 1994 but in the last 20 years, he completed just one feature, Puffball, which was shot in Ireland in 2007.
The producer points to the UK filmmakers he believes owe an obvious debt to Roeg Danny Boyle and Bernard Rose among them. "His stature now will only grow," Thomas predicted.