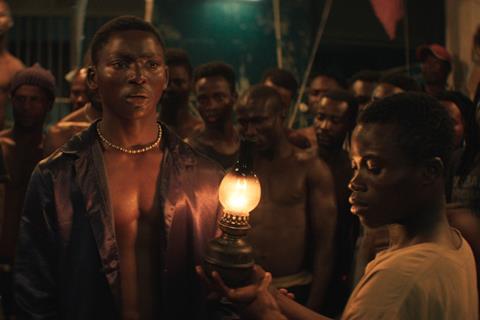 A host of Cannes Label and autumn festival selections populate the competitions line-up at the upcoming virtual edition of the 56th Chicago International Film Festival announced on Monday (September 21).
Venice and Toronto selections in the International Feature Competition include Apples (Greece) from Christos Nikou and Philippe Lacôte's Ivorian Night Of The Kings, while among the New Directors highlights are João Paulo Miranda Maria's Memory House from Brazil, and Palestine-set Gaza Mon Amor from Tarzan and Arab Nasser.
True Mothers (Japan) from Naomi Kawase in International Feature Competition and Spring Blossom (France) from Suzanne Lindon in New Directors are Cannes Label selections that screen in San Sebastian and also played Toronto.
Sam Pollard's MLK/FBI in International Documentary Competition screens at New York Film Festival and is joined by the likes of Gregory Monro's Kubrick By Kubrick, Maya Zinshtein's 'Til Kingdom Come from Israel, and Transoceánicas (Argentina) from Lucía Vassallo and Meritxell Colell Aparicio.
The Chicago roster includes world premieres for Stefanie Klemm's Of Fish And Men (Switzerland), Ignacio Márquez's The Special (Venezuela), Mama Gloria (US), and The Road Up (US) from Jon Siskel and Greg Jacobs.
Chicago International Film Festival runs from October 14-25. The competitions line-up appears below.
International Feature Competition
And Tomorrow the Entire World (Germany)
Dir. Julia von Heinz
North American premiere
Apples (Greece)
Dir. Christos Nikou
Careless Crime (Iran)
Dir. Shahram Mokri
North American premiere
Dear Comrades! (Russia)
Dir. Andrei Konchalovskiy
North American premiere
I'm Your Woman (US)
Dir. Julia Hart

Night Of The Kings (Côte d'Ivoire/France/Canada/Senegal)
Dir. Philippe Lacôte
Padrenostro (Italy)
Dir. Claudio Noce
North American premiere
Sweat (Poland/Sweden)
Dir. Magnus van Horne
North American premiere
True Mothers (Japan)
Dir. Naomi Kawase
US premiere
Under The Open Sky (Japan)
Dir. Miwa Nishikawa
US premiere
New Directors Competition
Any Crybabies Around (Japan)
Dir. Takuma Sato
North American premiere
Becoming Mona (The Netherlands)
Dirs. Sabine Lubbe Bakker, Niels van Coevorden
International premiere
Gaza Mon Amor (Palestine/Germany/France, Portugal)
Dirs. Tarzan and Arab Nasser
US premiere
Memory House (Brazil)
Dir. João Paulo Miranda Maria
US premiere
Of Fish And Men (Switzerland)
Dir. Stefanie Klemm
World premiere
Preparations To Be Together For An Unknown Period Of Time (Hungary)
Dir. Lili Horvath
US premiere
Schoolgirls (Spain)
Dir. Pilar Palomero
North American premiere
Sleep (Germany)
Dir. Michael Venus
US premiere
The Special (Venezuela)
Dir. Ignacio Márquez
World premiere
Spring Blossom (France)
Dir. Suzanne Lindon
US premiere
Striding Into The Wind (China)
Dir. Shujun Wei
North American premiere
International Documentary Competition
Kubrick By Kubrick (France)
Dir. Gregory Monro
North American premiere
Little Girl (France)
Dir. Sébastien Lifshitz
North American premiere
MLK/FBI (US)
Dir. Sam Pollard
Mama Gloria (US)
Dir. Luchina Fisher
World premiere
The Prophet And The Space Aliens (Israel/Austria/South Africa)
Dir. Yoav Shamir
North American premiere
The Road Up (US)
Dirs. Jon Siskel, Greg Jacobs
World premiere
Things We Dare Not Do (Mexico)
Dir. Bruno Santamaría
US premiere
'Til Kingdom Come (Israel)
Dir. Maya Zinshtein
International premiere
Transoceánicas (Argentina)
Dirs. Lucía Vassallo, Meritxell Colell Aparicio
North American premiere