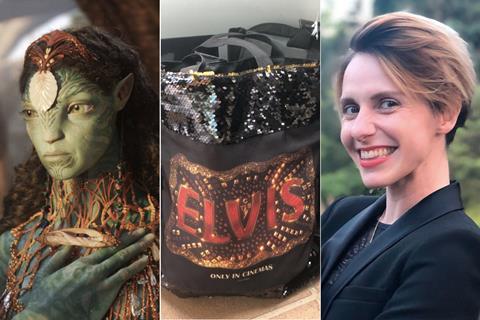 Slate diversity, sustainability, the return of the theatrical window and the Tom Cruise wow factor dominated conversations between distributors and exhibitors in Barcelona at CineEurope (June 20-23), the annual convention for European cinema operators. The event returned to its June slot following a pandemic-impacted October edition last year, and no CineEurope at all in 2020.
Studios promise life beyond the blockbuster
While box office has been showing healthy signs of recovery in most markets in 2022, the success has been driven by a relatively small number of blockbusters, with cinema operators lamenting a lack of mid-tier dramas, comedies and family films to encourage diverse audiences to come to the cinema and keep coming back. We have the answer, said US studios Universal, Sony, Warner Bros, Paramount and Disney in their product presentations.
For Universal, international president of distribution Veronika Kwan Vandenberg spoke of the studio having "something for everyone", adding: "We can't survive on superheroes and big IP alone." Paramount president of international distribution Mark Vine echoed her message, saying: "From powerful franchises to high quality storytelling from some of the world's most extraordinary filmmakers, Paramount has something for everyone."
In a session introduced by Sony Pictures International president Steven O'Dell, Sony reminded the audience "event movies come in all sizes", and likewise promised "something for everyone".
Warner Bros gave an extended spot to Olivia Wilde's drama Don't Worry Darling, starring Florence Pugh, Harry Styles and Chris Pine, showing several scenes.
Disney, with its powerful collection of film brands, was the last studio to present to the exhibitors at CineEurope, and the company's EVP and head of theatrical distribution Tony Chambers captured the mood. It was notable Searchlight Pictures head of international Rebecca Kearey was given significant stage time to unveil footage from upcoming titles See How They Run, The Menu and Next Goal Wins, plus a message from Empire Of Light director Sam Mendes.
"Now, a lot has been said this week about the need for studios to provide a robust theatrical slate, the need for a diverse slate, the need for dramas and comedies to complement blockbuster titles," said Chambers in his introductory remarks. "We plan to let the content do the talking."
The studios' message was appreciated by exhibitors such as Damian Spandley, director of programme and distribution sales at UK boutique operator Curzon. "A key message we welcomed was the future wouldn't entirely be about sequels and franchise IP," he said. "With most presentations, there were nuggets of drama hybrid storytelling and auteur filmmaking for Curzon to look forward to."
The theatrical window is back
Exhibition and distribution are partners and also potential adversaries, and the latter notably became the case in the early phases of the pandemic, as their agendas radically diverged. With cinemas ordered to close, studios broke the hallowed theatrical window, quickly transitioning on-release titles to VoD – and then variously cherry-picking new titles to be released for the home, or sold them to streamers, or released day-and-date theatrically and via their own platform in the case of Warner Bros in 2021. For cinema operators, the experience was bruising.
The dust has yet to settle on the pandemic, and the exact nature of the theatrical window remains unclear, but at CineEurope every studio emphasised its firm commitment to the theatrical experience – and little wonder when Paramount's Top Gun: Maverick and Disney's Doctor Strange In The Multiverse Of Madness are both north of $900m worldwide, with Universal's Jurassic World Dominion lumbering in that direction (and now at $645m). Warner Bros' The Batman reached $770m.
"There was a lot of experimentation with windowing, and that was all happening in a vacuum when there was no theatrical," said Niels Swinkels, EVP and managing director, Universal Pictures, when speaking on a panel near the start of the convention. "Now that we are coming out of the pandemic, we are reminded of the power of cinema."
Swinkels added, "For us at Universal, theatrical has always been the cornerstone of what we do" – presumably banishing to history pandemic-era moves such as the release of Trolls World Tour via PVoD while cinemas were closed.
The message was clear: releasing first and exclusively into cinemas remains the best way for studios to unlock the revenue potential of their content. This is a model that isn't broken, and doesn't need fixing – although views do differ about how long the window should be.
"All CineEuropes wax lyrical about the power of the theatrical experience, but this year that message was louder and much more intense as the studios strove to reassure cinemas that they weren't planning to abandon them entirely in the new short-window environment," pointed out Curzon's Spandley.
Sara Frain, director of marketing and distribution at the UK's Picturehouse Cinemas, similarly picked up on what she called the "great energy for films to be seen where they belong, on the big screen".
The staffing crisis
Away from the big studio presentations, and on the panels unfolding in various spaces inside Barcelona's International Convention Centre (CCIB), exhibitors were able to focus on some of their own issues – and staffing emerged as a hot topic at the 'Looking to the Future' executive round table.
Rolando Rodriguez, chairman, president and CEO of US exhibitor Marcus Theatres, as well as chairman of US exhibitors association NATO, said that cinemas in North America faced a big challenge. In particular, the pandemic saw workers aged 60-plus rethinking their priorities, with five million in total exiting the work force in the US, and younger part-time workers likewise diminishing in numbers. Rodriguez also cited the "inflationary aspect", with employers such as Home Depot and McDonald's "starting to pay $18-22 an hour". The outcome is that "the cost of labour has gone up somewhere between 30 and 45% in the US for part-time staffing".
Speaking on the same panel, Jane Hastings, CEO of Sydney-based exhibitor Event Hospitality & Entertainment, shared her company's own experiences, saying, "The number one thing is that we are operating in a really young industry, particularly in our markets. We recognise that over 70% of our staff are 16 to 25 years old. Relevance is important, and the way we communicate with them, the way we engage them."
She added, "They're seeking empowerment. They want to make decisions. They are transient. They're willing to give you a shorter period of their life before they move on and that's got to be okay."
Event Hospitality & Entertainment uses Facebook's Workplace, so "all of our communications are daily, two-way with our teams. We launch something and they instantly tell us if they like it, or they don't. It's a much more dynamic operating structure. So, change the way we communicate, adopt new technologies, your staff are like your customers, [offer] broader benefits, and just be open to the fact that they are more transient, and they want to be more empowered."
Dark skies and tough times
CineEurope unfolded against the backdrop of days 117-120 of Russia's invasion of Ukraine, spiralling inflation, a cost-of-living crisis, the ongoing climate emergency, and a pandemic that is still stubbornly flaring back into life in parts of the world. This confluence of factors might be enough to depress any business sector, but cinema operators can also see a silver lining.
"Cinemas are so much more important now than they were before the social shift of Covid and the war and the climate crisis and the loneliness that's coming along with it," said Dutch independent exhibitor Géke Roelink, speaking on the panel 'Re-Imagining the Big Screen Experience'.
"Film is entertainment, it's art, but it's also a vehicle to create empathy."
"With everything that continues to happen in the world around us, the importance of quality stories and immersive filmmaking has never been greater," said Chambers at the Disney presentation. Connecting audiences in the movie theatre is both "a powerful opportunity and a huge responsibility", he added.
In her opening address, Laura Houlgatte – CEO of the International Union of Cinemas (UNIC), which co-organises CineEurope with Film Expo Group – made an important commitment to cinema operators in Ukraine. "You have our undying support and solidarity, and a firm commitment that when the time comes, we will be in the vanguard of those looking to help you rebuild your cinemas."
Premium formats and premium experiences
"As we have just seen with the massive success of Top Gun: Maverick, premium theatrical formats have never been more important," said Paramount's Vine at his studio's presentation. "4DX, Screen X, IMAX, Dolby, ICE and your own premium large-format screens represented a huge part of the box office total. Now more than ever, it is important to invest in these high-quality formats, as it clearly differentiates the sheer theatrical experience from viewing at home. This should continue to be a focus for us as an industry."
Premium was very much a buzz word of the festival, and never more so than on the panel 'The Role of Premium Experiences in Cinema'. This panel took a broader view of "premium", including not just PLF (premium large format), but also luxurious, high-end, bespoke and curated cinema experiences. On a subsequent panel, Steve Knibbs, group managing director and deputy CEO at Vue International, bristled at the word. "Cinema is a premium experience, and I think we do danger by describing certain screens as premium."
His comment was echoed by Christof Papousek, CFO and co-partner at Vienna-headquartered Cineplexx. "Going to watch a movie in a movie theatre is premium. We have to be premium in all our offerings."
Tom Cruise to the rescue
In her introductory address, Houlgatte referenced the original 1986 film Top Gun, in which Ice Man demands of Maverick, "Whose side are you on?"
"Well, there's no doubt whose side Tom Cruise is on," she added, citing the box office success of Top Gun: Maverick (currently $913m worldwide). The delegates attending CineEurope agreed, as became clear when the man himself walked on stage at the end of Paramount's slate presentation. We have come to expect standing ovations of epic duration at the Cannes Film Festival, but the one for Cruise at CineEurope felt genuinely spontaneous and heartfelt. His film is appreciated not just for its box office number, but because it is recognised for bringing back to the cinema audiences across diverse ages, and especially older demographics that are recognised as having been more hesitant since the pandemic.
Earlier in the event, Aaron Taylor-Johnson appeared on stage at the Sony presentation, talking about his new film Kraven The Hunter, and introducing the first reel of Bullet Train, in which he also stars alongside the likes of Brad Pitt.
Will 3D return?
Disney handed out RealD 3D glasses to watch its trailer for the Valentine's Day 2023 25th-year rerelease of Titanic, as well as, of course, for the Avatar: The Way Of Water scenes. The format enjoys highly variable fortunes in different territories, and the jury is still very much out regarding whether cinema audiences can once again get excited for 3D.
Sustainability
'Growing Back Greener', a seminar presented by CineEurope main sponsor Coca-Cola, proved to be one of the more interesting panel sessions at the event, thanks to contributions from the likes of Simon Heppner at Net Zero Now and Andreas Hufer at Germany's Kinopolis cinemas.
Heppner outlined key challenges for businesses including: sustainability is confusing ("because different businesses are doing it in different ways, they're including different emissions in their footprints, setting different targets, and taking different actions"); it's risky ("if we get this wrong, we might be called out" and accused of greenwashing); it's complicated ("and that's going to be the case if individual businesses try to do this on their own and work it out on their own"); and it's expensive.
Heppner advocated a collaborative, sector-produced approach to finding solutions, creating standards, targets, benchmarks, actions and certification – "and everyone loves industry awards", he reminded us, suggesting an effective way to reward achievements in sustainability.
Representatives from Coca-Cola and Costa Coffee talked about the respective challenges tackling single-use plastic and non-recyclable cups, and their solutions now in progress, while Hufer achieved particular relevance by recounting how Kinopolis was able to eliminate single-use cups for sodas in all of its cinemas, and transfer to refillable. Currently, the cups have to be sent to a third party for washing and drying, and there are losses through accidental disposal by audience members – but wastage numbers are gradually dwindling.
"I expect that the [cost] gap between disposables and refillables will shrink," he said. "With more acceptance in the market, more companies in the system, the economy of scale will help to reduce the costs. Meanwhile, due to political will and increasing raw material cost, the situation for the disposables will become less and less attractive."
One point not addressed by the session was the goodie-bag culture of trade conventions such as CineEurope. Screen picked up gift bags from Warner Bros, Disney and CineEurope itself, and successfully regifted most of the items in Barcelona. In other regards, CineEurope was making visible efforts in sustainability, especially in the area of single-use plastics.
The elephants in the room
While CineEurope is always interesting for what is being talked about, it's also just as fascinating for what is not being talked about. The problematic China market, where many recent US blockbusters have yet to be released, was not mentioned by top studio executives, or in any of the many panels Screen attended.
Russia, which is no longer remitting receipts back to US content providers, and where studio titles are not playing, was similarly not a topic – except in the more general sense of contributing to the dark times that are bringing audiences together.
Meanwhile Warner Bros managed to include a special presentation on its upcoming DC slate, including The Flash, without mentioning star Ezra Miller – who faces an array of disturbing allegations, and was arrested twice in Hawaii while filming earlier this year.
For UK independent cinema operator Kevin Markwick, who owns the Picture House in Uckfield and the Electric in Birmingham, "any attempt to address the lumpy relationships [between distribution and exhibition] from the past two years was often painfully absent".
However, he added, "The biggest takeaway was the feeling from exhibitors that we are back, and the positivity was palpable. The studio presentations were on the whole very encouraging. Assuming everything we saw remains available to cinemas and the cost-of-living crisis doesn't knock everything off course, the next 12 months looks pretty good."