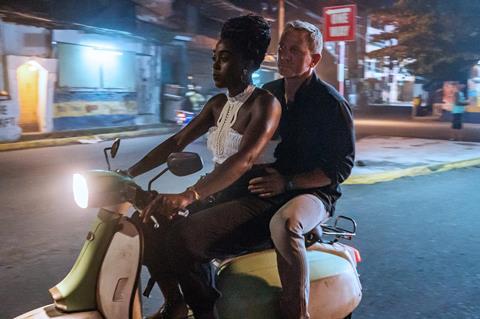 Universal Pictures was the clear winner at the German box office in the second pandemic year as overall takings increased year-on-year by 25.8% in 2021.
According to Comscore, German cinemas posted total box-office takings of €361.8m and sold 40.4m tickets - up 18.3% on 2020, but 63% down on the 110m admissions in 2019.
Universal secured its market leader position of 31.9% market share of box-office gross and 29% for admissions thanks to the year's biggest release, No Time To Die, which had taken €64.6m by the end of the year, and accounted for almost 15% of all tickets sold in Germany in 2021. The James Bond film has now grossed $72m as of mid- January and makes Germany the third-biggest market for the film behind North America ($161m) and the UK ($131m) and out-performing China's gross of around $64.6m. This is in line with the popularity of previous Bond films in Germany.
No Time To Die firmly outpaced Sony's Spider-Man: No Way Home although Spider-Man opened in the middle of a Covid surge in Germany, at a time when cinemas faced various restrictions throughout the country and were down to 25% in some Lands, and were closed outright in Saxony and Mecklenburg-Vorpommern. It has since grossed $39.3m as of mid January 2022.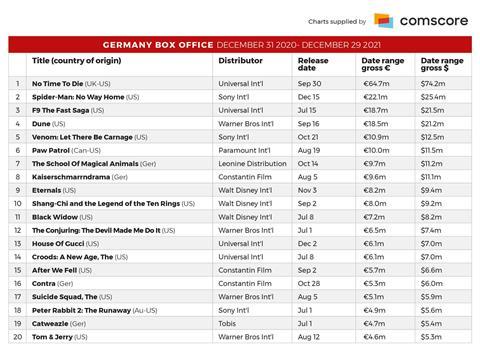 Universal also released F9 The Fast Saga, which was the third biggest film of the year with a gross of €18.7m.
Leonine's family film The School Of Magical Animals (€ 9.7m) was the most successful German film of 2021 while Constantin held on to its position as Germany's leading independent distributor with a market share of 7.6%. It's slate was led by Bavarian crime comedy Kaiserschmarrndrama (€9.6m), After We Fall (€ 5.7m) and Sönke Wortmann's comedy Contra (€5.2m).
German films
The first year of the pandemic had seen local German films drawing the largest audiences into the cinemas – a phenomenon also witnessed in other markets – but 2021 saw US films returning to their dominant position at the box office, occupying 16 of the top 20 spots. The remaining four were taken by German films.
However, the performance of German distributors and exhibitors over the past 12 months gives cause for some optimism about the continued place of cinema-going in people's leisure budget given that most cinemas – with few exceptions – remained closed for the first six months of the year with the general re-opening and a backlog of delayed film releases surging into the cinemas from July 1.
As 2022 begins, cinemas throughout Germany now require audiences to show proof of the third booster vaccination, and those who have recovered from the virus or have only had two jabs have to provide evidence of a current negative test result.