Plus: RLJ Entertainment picks up Kickboxer: Vengeance; CinemaCon honour for Bryce Dallas Howard; and more…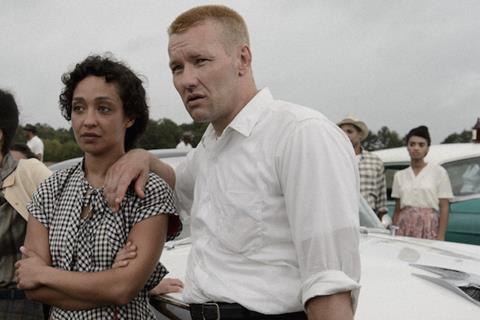 Focus Features will release Jeff Nichols' upcoming drama Loving in the US in an exclusive release on November 4 followed by wide expansion a week later.
Joel Edgerton and Ruth Negga star as Richard and Mildred Loving, whose interracial marriage in the 1950s led to banishment, prison, and finally Supreme Court vindication.
Focus paid $9m for Loving for North America and most of the world in Berlin after CAA showed early footage. Nichols' sci-fi drama Midnight Special starring Michael Shannon, Edgerton, Adam Driver, Jaeden Lieberher, and Kirsten Dunst opens this week in the US via Warner Bros.
RLJ Entertainment has acquired all US rights to Kickboxer: Vengeance, starring Jean-Claude Van Damme in a return to the franchise that made him famous. John Stockwell directs from a screenplay by Dimitri Logothetis and Jim McGrath. The cast includes newcomer Alain Moussi, Dave Bautista, Gina Carano, Georges St-Pierre, and Cain Velasquez. Logothetis produced with Nicholas Celozzi, Ted Field, Allen Knudson, Samuel Cory Timpson and Rob Hickman, who arranged the majority of the financing. RLJ brokered the deal with Logothetis, Field, Brian O-Shea, and Mike Weber on behalf of the film. Kickboxer: Vengeance will open in theatres and on VOD later this year.
Bryce Dallas Howard will receive the CinemaCon Award For Excellence In Acting in Las Vegas on April 14. The official convention of The National Association Of Theatre Owners takes place from April 11-14 at Caesars Palace. Howard's next film is the August 12 release of Peter's Dragon via Disney.
Vancouver-based Brightlight Pictures president and producer Shawn Williamson has hired Jameson Parker as director of development. Parker, is a co-founder of Whiskaye Films and besides features recently produced White Ninja, the first narrative series developed for Vine. He will work alongside director of production and development Arielle Boisvert.
Wanda Studios Qingdao CTO and interim CEO Gary Kho and NFDC India managing director Nina Lath Gupta have been added to the speaker roster at the AFCI Locations and Global Finance Show, set to run in LA from April 21-23. Others include New Zealand Film Commission head of incentives Catherine Bates, and Steve Solot, president of the Latin American Training Center.
Supergravity Pictures has acquired rights to Maya Newell's documentary Gayby Baby and will distribute this spring in partnership with LA-based Heard Well, a music label powered by social tastemakers. Event theatrical screenings in more than 50 cities start on April 1 ahead of the VOD/EST release on May 1.
Top brass at Hot Docs have announced 14 additional Special Presentations selections to join the previously announced 15 films. The new arrivals include Clay Tweel's Gleason, Roger Ross Williams' Life, Animated, and Stephanie Soechtig's Under The Gun. The festival runs in Toronto from April 28-May 8. Click here for further details.