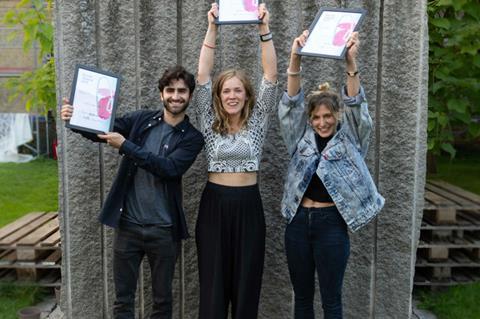 Fanny Ovesen, a recent graduate of the Norwegian Film School, won the Nordic Talents Pitch Prize worth $30,000 (250,000 NOK), with her fiction feature project Laura (working title).
The story follows a young woman on a couch surfing trip through Europe, who wakes up having had sex with a stranger. She remembers nothing. Torn between guilt and innocence, she sets out on a journey which will influence her self-image and close relationships forever.
Two further graduates of the Norwegian Film School both earned a special mention award worth $6,000 (50,000 NOK) each: Brwa Vahabpour with his fiction feature pitch Silence, about a Kurdish woman who loses her hearing; and Teresia Fant with her documentary project Stories From The Shower, which will talk to young people about feeling vulnerable in school locker rooms and showers.
The jury was comprised of Finnish filmmaker Marja Pyykkö, Norwegian filmmaker Izer Aliu, Danish animator/filmmaker Jørgen Lerdam, Swedish Film Institute commissioner Madeleine Ekman, and Wendy Mitchell, Screen's Nordic correspondent.
The jury said of Ovesen, "We award the top prize to a filmmaker who we think has demonstrated huge talent with a very strong graduation film (She-Pack). We're confident she has a clear vision of the story she wants to tell, and we can't wait to see how she explores the complex themes of victimization and blame, and truth and memory."
Nordic Talents is now in its 18th year, organised by the Nordisk Film & TV Fond and hosted at the National Film School of Denmark in Copenhagen. The two-day event aims to connect recent film school graduates from across the Nordics with industry professionals who are scouting new voices.
There were 15 projects pitched – fiction, documentary, hybrid projects, webseries and animation; and 18 production companies who pitched themselves to the new talents. The event also hosted a masterclass with the team behind Ali Abbasi's Cannes hit Border.