Author Johanna Koljonen presents fourth Nostradamus report at the Goteborg Film Festival's Nordic Film Market.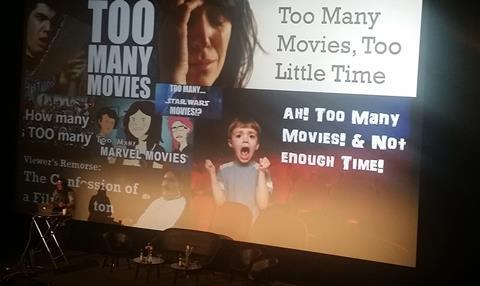 How the industry is coping - or not coping - with too many feature films flooding the market is one of the key topics of the fourth Nostradamus report, presented by author Johanna Koljonen today at the Goteborg Film Festival's Nordic Film Market.
This surge of production isn't working in the existing value chain of distribution.
"There is no equivalent surge of innovation in distribution and audience relations," the report stated. "A theatrical window is not feasible even for all quality films - not even on the festival circuit. A complete digital transformation of the small screen landscape seems inevitable."
Koljonen said one reason that more films were being made were new funders entering the sector, regional funders and tax credits increasing activity, and "the democratization of film production." As many new filmmakers start their careers, that doesn't mean older filmmakers are retiring.
"There is no cohesive vision in the funding landscape" she warned, which can be good for filmmakers who want to make their films, but not helping make films that have clear pathways to audiences.
The report said, "The elephant in the room is that there are too many filmmakers and production companies for the market as currently organised to sustain.
"In addition to their goals of supporting artistically outstanding, politically relevant, formally experimental or niche filmmaking, the national and regional European public funds are often, whether formally or from tradition, also concerned with keeping their local industries working," the report warned.
"No one will say it outright, but this may put pressure on funders to continue to support filmmakers even when their work no longer connects with audiences or critics."
The upsides to more production is that more good films get made, and there are more voices being heard. But the flip side, she said, includes more bad films get made, more irrelevant films get made, more films are competing for funding, for audience attention and for distribution channels.
Rikke Ennis, CEO of TrustNordisk, said on the Nostradamus panel today, "the whole distribution part is lacking. Why make films that are just not going to be seen? We need to think new thoughts, about the audience as the curator."
In the report, Koljonen wrote, "This is the time to proactively explore and create business models for the full audiovisual ecosystem - because otherwise they will be dictated to us. The next three to five years is the time to show that innovation is not exclusively the domain of massive technology companies."
The Nostradamus project, started by Goteborg in collaboration with Lindholmen Science Park, aims to look ahead to the next five years in the film industry.
The interviewees for this year's report are Roberto Olla, executive director of Eurimages; Bobby Allen, VP of content at MUBI; Catharine Des Forges, director of the UK's Independent Cinema Office; Tomas Eskilsson, head of strategy at Swedish regional funder Film Väst; Domenico La Porta of the R/O Institute; Joëlle Levie of Olffi; and Fredrik af Malmborg, managing director of Eccho Rights.
In the report, Olla said, "The problem is that as curators, we're failing, big time. We're proposing films that we believe are good, but the audience is not going toward the kinds of proposals that we're making.
"Where do you draw the line between giving the audience what they want - the larger audience - and at the same time creating and proposing new things and allowing innovation to happen? That is the difficult balance."
He added, "There will be a moment in which this overproduction of films and companies and authors will come to an end. It's certainly going to be painful for some. But in my opinion, it's not going to explode in the next three years. Maybe five."
Eskilsson agreed, "The funding bodies have to get so much better at not keeping hopeless projects alive."
Des Forges said of exhibition's future: "We can point at a tendency in the next few years for a kind of polarisation of the cinema-going experience. The commercial side will continue to bet on experience-enhancing technologies, or services like better seats or premium dining, that require big infrastructure investments.
"On the independent side, where those are not always possible, focus will by necessity be on live content, intentional community design, and human interaction."
The report said there was great potential for more niche films connecting to audiences as "digital grassroots distribution and social curation will finally emerge."
Another trend to expect in the next five years is consolidation.
The report predicts, "Expect to see more mergers and acquisitions - it seems feasible that a major technology company could purchase a major studio. If antitrust regulation is relaxed under the Trump administration, as net neutrality rules almost certainly will be, the media landscape is regardless likely to consolidate dramatically during the next four years."
Allen wondered about "Google, the sleeping giant, why aren't they going into content in a bigger way? They are already there with YouTube and Play and all these other things, but I just wonder: if Google decides that they want to be the Spotify of cinema, what will happen?
Virtual reality trends
The report predicts maturation of the VR industry soon.
"In the next 3-5 years, the fundamental grammar of VR storytelling will finally be developed, and the real leaps will happen once the production tools are more widely available. Some standardisation will help focus a splintered marketplace."
The experts said that VR might become more theatrical in the short term, moving away from home headsets to including brief theatrical windows."
VR's development could be led in related fields like advertising or theme parks; collaboration across sectors and with the hardware industry will be important to establish technical standards, for instance.
"Multi-participant or social VR will be an everyday phenomenon, and storytelling designed to be shared and experienced together will have taken a rapidly growing market share," the report predicts.
The global combined VR and AR market is projected to be worth $162bn by 2020.
For VR storytelling, "Best practices are now at least starting to emerge, but this artistic frontier is where the financial investments into VR are certain to produce some real returns in the next three years.
Koljonen said, "Somewhere between gaming and storytelling is a new medium, it's going to be a big thing in 5-10 years, so you do have to care. But it could be separate from the filmmaking ecosystem."
To read or download the full Nostradamus Screen Visions 2017 report, visit nostradamusproject.org/reports/2017-nostradamus-report.