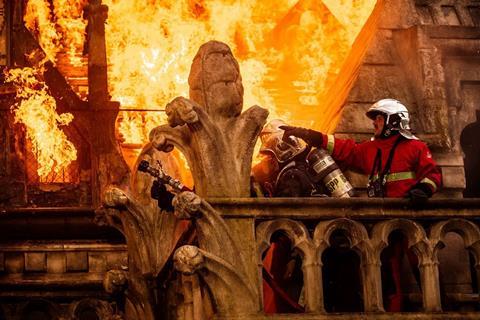 The North American premiere of Jean-Jacques Annaud's Notre-Dame On Fire (Notre-Dame Brûle), a dramatised account of the April 2019 fire that damaged the Gothic Parisian landmark, will open American French Film Festival (formerly COLCOA) in Los Angeles on October 16.
The week-long event will close with the North American premiere of Dominik Moll's thriller The Night Of The 12th (La Nuit du 12) and the annual filmmaker focus will be dedicated to Moll. The world theatrical premiere of Olivier Assayas's series Irma Vep will also screen on closing day.
The line-up of features includes the world premiere of Fgko's Blazing Neon (Du Crépitement Sous Les Néons), and North American premieres of Emmanuel Mouret's Diary Of A Fleeting Affair (Chronique d'Une Liaison Passagère), and Maria Into Life (Maria Reve) from Lauriane Escaffre and Yvonnick Muller, among others.
Festival selections include Marie Kreutzer's Corsage, Maimouna Doucoure's Hawa, Michel Hazanavicius's Final Cut (Coupez!), and Alain Guiraudie's Nobody's Hero (Viens Je T'emmène).
"This selection of French films and series in competition for The American French Film Festival Awards underscores – despite the two-year pandemic period – the astounding dynamism of the French production community," said festival executive producer and programmer Francois Truffart. "This 26th edition of the festival is notable for its diversity of genres, the emergence of new talent and particularly for the creativity coming from new female filmmakers."
The line-up will also include a documentary selection, a Classic Program paying homage to the late Jean-Luc Godard, Jacques Perrin, and Jean-Louis Trintignant.
As previously announced on Screen, the festival will honour producer and CG Cinéma founder Charles Gillibert.