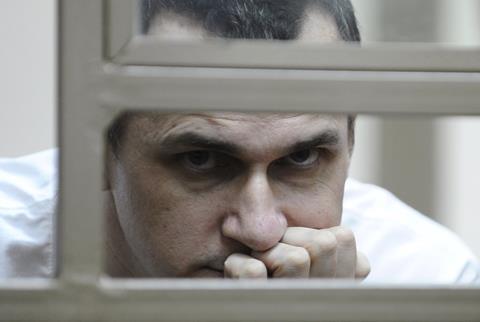 Final preparations are now underway for the start of prinicpal photography on Numbers, the feature film based on the 2011 play of the same name by the imprisoned Ukrainian director Oleg Sentsov. It will be directed by Ukrainian actor-director Akhtem Seitablaev on Sentsov's recommendation.

Sentsov is in a remote Arctic prison camp in protest at his detention and that of some 70 compatriots in Russia. He was on hunger strike for 145 days, which ended in October.
He had hoped he would be released in time to direct the feature but is instead credited as 'co-director' and working on the project from behind bars.
"Every week, we have received 5-8 letters from Oleg," explained producer Anna Palenchuk of 435 Films. "He is involved in everything – in the cast, costumes, props, and set construction."
She explained that whenever Sentsov's lawyer Dmitri Dinze went to visit him in the labour camp, he took presentations about scouting locations and casting as well ideas for crew members.
Seitablaev's most recent film was the patriotic war film Cyborgs - Heroes Never Die, released at the end of 2017 and one of the most successful Ukrainian films of recent years.
The start of filming comes after the premiere of a stage performance of Numbers which was held at Stage 6 in Kiev's Dovzhenko Center last Friday (Dec 7).
The stage production was directed by Tamara Trunova of the Theatre of Drama and Comedy and produced by Palenchuk with support from the Ukrainian Cultural Foundation.
"Early last summer, I had suggested to Oleg that we make a record of this performance and possibly do this on a sound stage like in a Dogme-style rather than just filming the theatrical performance. He immediately said he wanted to direct such a film," Palenchuk said.
European co-production
Dariusz Jablonski's Warsaw-based Apple Films is on board the project as a minority co-producer and has received €233,000 support from the Polish Film Institute. Jablonski brought onboard the Polish cinematographer Adam Sikora, who was nominated for the European Film Award for his camerawork on Jerzy Skolimowski's Essential Killing in 2011, and the film editor Jaroslaw Kaminski whose credits include collaboration with Pawel Pawlikowski on the Oscar-winning Ida and Cold War.
Further crew members include Russian production designer Kirill Shuvalov, whose credits include Sergei Loznitsa's Donbass, A Gentle Creature and My Joy as well as Roman Bondarchuk's Volcano. Sentsov is understood to have asked for Shuvalov.
According to Palenchuk, all of the film's cast is Ukrainian and the film will be shot in the Ukrainian language. "Oleg doesn't want to involve any European cast, and the reason why he is able to rely on the crew is because many of the people working on the production have worked with him in the past," she said.
Palenchuk suggested that postproduction will follow on swiftly after the shooting is completed. "It is important to have this film completed as soon as possible and, as Loznitsa showed with Donbass [this year], the postproduction can be done within a month. And we will find a way to show it to Oleg."
This morning (Dec 12) Sentsov's cousin Natalya Kaplan accepted this year's Sakharov Prize on behalf of the imprisoned director at a ceremony during the plenary session of the European Parliament in Strasbourg and read out a letter from Sentsov to those MEPS present.
Named in honour of the Soviet physicist and dissident Andrei Sakharov, the prize was introduced by the European Parliament in 1988 to honour individuals and organisations who defend human rights and fundamental freedoms.
Sentsov was arrested in his home in the contested region of Crimea by Russian security forces in May 2014. Prior to his detention, he had been involved in the pro-European Euromaidan protests in the Ukrainian capital of Kiev in 2013 and was strongly opposed to Russia's subsequent occupation of the Crimea in 2014.
The director was sentenced by a Russian military court in 2015 to a 20-year prison sentence on terrorism charges he strongly refutes.