Danish producer Peter Aalbaek Jensen of Zentropa is "enthusiastic" for the future of European cinema – but doesn't "give a shit" about the Danish film industry.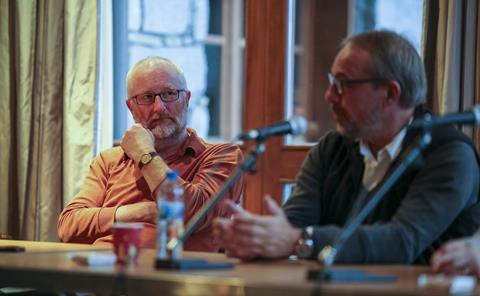 Speaking on a panel about film finance at the at the Les Arcs European Film Festival (Dec 14-21), the prolific producing partner of Lars von Trier said: "I'm very enthusiastic about Europe because I remember how it was. It wasn't fun 20 years ago. It's much better now and there is much more to believe in.
"When you see that prices are going up in the States because of video on demand and Netflix, there is a life for small, shitty countries and our very small, very shitty films. There are 7.5 billion people and some of them might accidentally drop in and buy a Danish film."
Jensen, who is in Les Arcs to attend an invite-only preview of Nymphomanic with French distributor Films du Losange, also talked about the current upswing in the popularity of Nordic films.
"By some chance we have a slight backwind," he said. "We see it as an advantage that we have no home market which means if we make a film, it should be exportable otherwise we can't survive.
"Right now we are putting in as much snow and countryside to make our films as ethnic as possible. At least then we have a chance of being something different to the many English-language and bigger budget films."
When asked about the best place to shoot, Jensen said: "I don't give a shit about the Danish film industry. I'm a fucking European and I shoot where it's cheapest. Simple.
"I prefer to shoot where I get the best money, the best conditions and the best crews and that's not in Denmark, so why should I be there.
"Germany is fantastic because it's a reliable country. If you have a country you can trust, in terms of making something solid, I'm very happy about Germany."
TV funding challenge
The panel, chaired by Screen, also included Helge Sasse, CEO of German producer/distributor Senator Entertainment, and Anna Kokourina, vp of production at Fox International Productions.
Sasse, who is in Les Arcs with Mr Morgan's Last Love, said that putting together movies in Europe "is becoming increasingly easier than it was five years ago".
But he added that European TV broadcasters have reduced their licensing fees as they are aware there is soft money available. Sasse revealed that, as a result of this shift, a planned film about iconic German director Rainer Werner Fassbinder fell through.
"We were trying to put together a film about Fassbinder but we didn't find German television," said Sasse. "That was the main problem because it's was a more commercial approach to Fassbinder and the 'gay story' rather than his position as a cultural icon of German films. So we didn't make it."
France remains tough
The panel also agreed that France is a tough territory in which to produce, if you're from outside the country.
"France is a little problematic," added Sasse. "The working hours are very restrictive and that makes production much more expensive than in other parts of Europe."
Jensen agreed: "It is too expensive to shoot in France. Bottom line."
Kokourina said: "That is one of the reasons why [Fox International Productions] have yet to make a French film. We've made movies all over Europe except France, one of the healthiest local markets."
Jensen quipped: "Whenever we ask for money in France I say that we were the only one that supported Napoleon Bonaparte and it cost us the Danish fleet twice over at the beginning of the 18th century - so maybe they owe us something, I don't know."
FIP's strategy
Kokourina also explained FIP's strategy for co-financing projects in Europe.
"Since we are a studio, the primary determination for us to invest in a film is what are the chances of making that money back," she said of FIP, a division of 20th Century Fox that focuses on regional film productions in local markets around the world - 80% of which are not in English.
"Commercial success is, first and foremost, the most important thing for us. While any non-English language film has a chance to cross over and become an international success, the initial assumption is that it has to make its money back in its home territory. This means that the rest of the world will become the icing on the cake.
"If it doesn't work, which let's face it, most local non-English language films will stay in their home territory, we will still be okay. That's why when we pick a market to work in, we usually pick one where domestic films present a sizable portion of the market. Something like Germany, Italy or the UK.
"Basically, a healthy local market and a need to make our investment back is our determinant worldwide."