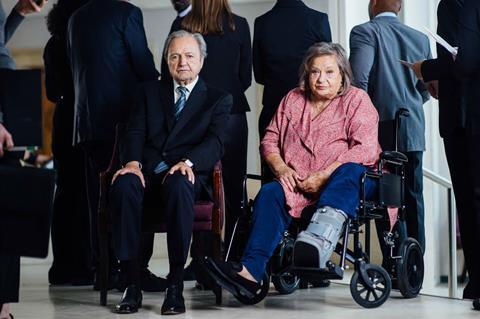 UK exhibition chain Odeon has lined up screenings of romantic drama Together, in 96 theatres on June 19.
Made for £850,000, Together was written and directed by Paul Duddridge, and stars Sylvia Syms (The Queen) and Peter Bowles (Victoria) as an elderly couple who are separated into different care homes against their will after 60 years of marriage. The film takes in their fight against a frustrating system to be together again.
The cast also includes Cathy Tyson (Band Of Gold), Amanda Barrie (Benidorm) and Nina Wadia (Bend It Like Beckham).
Together was co-produced by Siempra Viva Productions, Marmont Films, and TV4 Entertainment, with Duddridge, Danielle James, Steve King and Tora Young as producers.
Welsh director Duddridge made his feature debut in 2016 with the independent drama Mothers And Daughters, which he co-directed with Nigel Levy.
"I was convinced there had to be a market with seniors for such a powerful tale - a Romeo And Juliet for the over 60s," said Duddrige.
The film is part of Odeon's Silver Cinema programme, a series of screenings with reduced-price tickets aimed at audiences over 55 years old.