"Distribution is changing, therefore festivals will continue to change, too."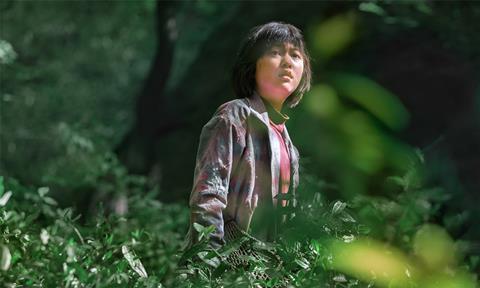 Amidst the controversy over the Cannes Film Festival's new rules change to exclude films without a commitment for French theatrical release, Netflix held its first press conference for its first Korean feature production Okja, which is set for a world premiere in Cannes Competition this week.
At the event director Bong Joon Ho (Snowpiercer) and Netflix chief content officer Ted Sarados addressed the film's controversial inclusion in the festival.
Sarandos said: "I'm extremely proud of our association with Okja and Cannes. The Cannes Film Festival has a great history of only inviting what they believe are the greatest films in the world. And I believe it's in that spirit that they invited Okja."
"Historically, there have been many films without distribution that got into the festival. Distribution is something that people will hash around for many years to come. I mostly would like to thank Thierry [Fremaux] for being bold and innovative in his choices to invite director Bong. I believe it's one of the greatest films in the world. I believe in the years to come, Cannes will continue to invite the greatest films in the world. Distribution is changing, therefore festivals will continue to change, too," he said.
Bong says part of the deal with Netflix from the beginning was that they would give the film a theatrical release in South Korea, the US and the UK.
"For me, a how a film is distributed is important, too, but as an auteur, freedom of creation and all kinds of editing rights are important, too. Whether in the US or Korea, aside from almost god-like directors like Spielberg or Scorsese, it's hard for a director to get 100% control of a film this size. Netflix was willing to give it and so there was no reason for me to hesitate in working with them," said Bong.
Speaking to the controversy in France, he said he expects streaming and theatrical to co-exist harmoniously in the end.
"A few days ago, I watched a French film from the 1960s where someone was saying "Film is dead" because of television. It's not something to worry seriously about. I'm sure Ted goes to the theatres with his family, and that the French exhibitors also watch films at home. It will all work out beautifully in the end," he said, saying he wasn't much bothered by the controversy.
Read more:
Film festival heads react to Cannes Netflix controversy
Netflix CEO hits back after Cannes rule change
Release dates
Okja stars Ahn Seo-hyun as a young mountain-dwelling girl whose sets out on a long journey to save her best friend, a massive animal named Okja, from a powerful multinational company based in New York. Featuring Tilda Swinton, Jake Gyllenhal, Paul Dano, the film is a Plan B Entertainment, Lewis Pictures and Kate Street Picture Company production in association with Netflix.
Six weeks after its world premiere in Cannes, the film is set to go live on Netflix in 190 countries June 28 in US timezones and June 29 in Korea, where it will also be theatrically released by major local investor/distributor NEW on the same day.
NEW CEO Woody Kim stated today that the film would get an "unlimited" run and that they were still talking with exhibitors as to the size of the release.
Sarandos confirmed Netflix is also planning a limited theatrical release in the US and in London to qualify for the BAFTAs.
Putting it together
Jeremy Kleiner, producer at Brad Pitt's Plan B, used the word "stalking" in their "aggressive" pursuit of working with a director he and his partners were "huge fans" of.
"Okja is consistent with the films that Brad and Plan B have made. We use the phrase "unicorn." We look to make one-of-a-kind films. It isn't a copy of something else, something that's wholly original and stands on its own as [an expression of] an individual artist," he said.
Producer DooHo Choi, who also worked with Bong on Snowpiercer, said having that film fully financed by CJ Entertainment gave Bong full control over the production, but experiencing difficulties with The Weinstein Company in getting a final cut ready for US release made the issue of control an important consideration in making Okja.
"So when we met with Plan B and Netflix, it was refreshing. Ted was a huge fan of director Bong and Snowpiercer, which was a hit on Netflix. They just wanted him to make his film the way he wanted to. They visited the set several times," he said.
Producer Lewis Taewan Kim, who also worked with Bong on Snowpiercer and The Host said it only took a week after the filmmakers' initial meeting with Netflix execs to sign with them.
"The deal was exceptional for a studio. We signed without much hesitation," he said.
Sarandos said the aim for producing Okja was more about growing the global market than targeting solely Korean audiences.
"Its heart and soul are very Korean, but it's a very global film," he said, adding Bong had created a world that "transcends language and cultures" and that "everyone will benefit from having a bigger industry" with "more opportunities to connect great storytellers from around the world […] to viewers around the world."
Unusual love story
Bong expressed the hope that talk about Cannes and distribution methods would eventually take a back seat to talk about the film itself once people have seen it.
"I anticipate even more explosive talk about the film's story itself," he said, noting it could be seen as political satire, but also "my first love story – between a girl and an animal" and how we live with animals "as friends and family, and as food."
"They say more than 10 million people have animal companions in Korea now, so it would be good if everyone who has animals as family members would come see the film [in theatres]," he said. (10 million is the watershed admissions mark in South Korea.)
"The pets can watch it at home on Netflix," Sarandos added.
Read more:
Cannes 2017: Directors' Fortnight line-up
Cannes 2017: Official Selection in full
Cannes 2017: Critics' Week line-up