The Netflix film was not shown in the country's three biggest cinema chains.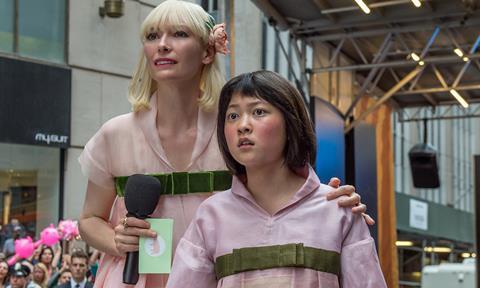 Bong Joon Ho's Netflix release Okja has placed fourth at the South Korean box office in its first weekend, despite a boycott by all three of the country's major cinema chains - CJ CGV, Lotte Cinema and Megabox.
The controversy over the film, which started when it was selected to Cannes Competition earlier this year, has kept Okja in the news for over a month.
Released simultaneously on the online streaming platform and in local theatres June 29, Okja was on 111 screens and took $597,600 over the weekend, according to the Korean Film Council.
South Korea's three major cinema chains, affiliated with their own investor/distributor companies, took issue with Netflix's knocking down of the typical three-week holdback window for films before going to smaller screens and decided to boycott it before the release.
Next Entertainment World (NEW), which is distributing the action adventure locally, got the film into independent arthouse theatres such as Cinecube and the Busan Cinema Center as well as Daehan Cinema, a Seoul multiplex unaffiliated with any of the top three exhibitor chains.
Goh Young-jae, executive director of the Association of Korean Independent Film and Video, noted on social media that "Okja's butterfly effect" has resulted in smaller, independent films being deprived of screens they normally would have been exhibited on.
Overall at the weekend box office, Lee Joon-ik's local historical drama, Anarchist From Colony, beat out Transformers: The Last Knight to take first place with $5.87m.
Based on true events of the persecution of Koreans in Japan following the 1923 Great Kanto Earthquake, the courtroom drama opened June 28. Distributed by Megabox Plus M, it was on 1,176 screens.
Hollywood sequel Transformers: The Last Knight took $2.63m, dropping from the top spot it took on its opening weekend. Distributed by Lotte Entertainment, the film was on 1,739 screens.
At third place, CJ E&M's action film Real took $1.18m from 970 screens.