Ukrainian filmmaker Oleg Sentsov's detention in Russia's Lefortovo prison has been extended once again - this time until May 11 after a decision by the regional court judge Elena Kaneva.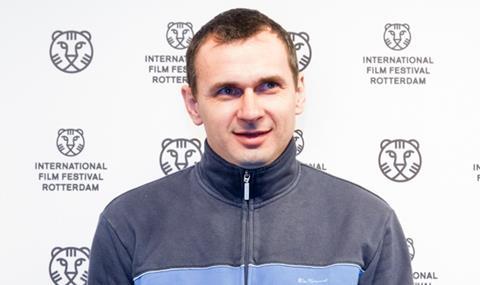 This latest extension will mean that Sentsov has been held in custody for a year since being arrested by the Russian FSB secret service in the Crimean peninsula in May 2014.
Speaking at the hearing in the courtroom Sentsov said defiantly that he could not agree with the decision to extend his custody since there hadn't been any evidence presented of his alleged participation in or organisation of terrorist activities in Crimea last year.
After making reference to the testimonies obtained from fellow defendants Gennady Afanasyev and Oleksiy Chyrny , which the Russian FSB security authorities claim to incriminate him as a supporter of such activities, he added: ¨I am confident that the brave investigators will prove everything because the Federal Service of Chaos in your country knows how to perform their duties so that the affair is transparent.¨
He was fully aware that he was facing the prospect of 20 years in prison, a term which had already been mentioned the day before he was formally arrested last May.
¨It's already a done deal, this is being constantly repeated,¨ Sentsov said, adding that it had been hinted to his lawyers that ¨a very hard and interesting life will await me in prison camp, if I make it there at all.¨
¨But I'm not afraid of threats or hints, or of the 20 years in prison, because I know that the era of the reign of the bloody dwarf in your country will end sooner.¨
The Russian website www.grani.ru attended the court hearing and filmed Sentsov being applauded by supporters on his arrival and departure as well as a short statement from his sister Natalya (in Russian only at: http://youtu.be/QpZrCWULqEU)
Documentary on Sentsov raising funds
News of the extension to Sentsov's custody came as a group of filmmakers from Russia, Ukraine and Estonia launched a crowdfunding campaign via Indiegogo to raise €12,500 financing for the postproduction of Release Oleg Sentsov: A Documentary
The team includes Sentsov's Ukrainian producer Olga Zhurzhenko, who had worked with him on his feature debut Gamer and had begun preparations with Germany's Alexander Ris of Neue Mediopolis on his second feature project Rhino.
Also onboard are the Russian documentary filmmaker Askold Kurov, whose recent credits include Winter, Go Away! and Children 404, his Ukrainian co-author Andrii Lytvynenko who participated in the award-winning anthology Euromaidan. Rough Cut, and producers Maria Gavrilova and Max Tuula, co-producers of the documentary project The Term about the Russian opposition leaders.
The team had been following the case of Sentsov's incarceration since last summer and have spoken to people who know him since they are unable to film Oleg other than in the courtroom.
¨The documentary will be a tapestry, made of various materials. We'll reconstruct the chronology of this dramatic detective story,¨ the team exPlained. ¨The film's starting point is Oleg's arrest in May 2014. After sketching his portrait through media and outlining the circumstances of his arrest, we'll begin our own investigation. Step by step, detail by detail, we'll add strokes to the picture — using interviews with the witnesses, court chronicles, political and social events in the both countries.¨
In addition, the filmmakers have gathered video messages of support for Sentsov from such international colleagues as Wim Wenders and Hubert Sauper to incorporate in the film.
To date, the crowdfunding campaign has raised € 969 towards paying for such costs as the sound mix, Colour correction, music rights and charges for archive footage.
goEast shows solidarity
Even before the latest developments, Wiesbaden's goEast - Festival of Central and Eastern European Film (April 22-28) had already decided to organise an event as a sign of solidarity with the arrested director.
Milo Rau's 2013 film The Moscow Trials, which uses the re-enactment of court cases against artists and curators to investigate the subject of creative freedom in the arts, will be shown in a late-night slot on April 24.
On April 25, producer-cinematographer Pavel Kostomarov will present a 'work in progress' screening of his new film Kiev/Moscow which accompanies ordinary 'everyday heroes' as they attempt to maintain some sense of 'normality' in the midst of war.
Moreover, Mykhailo Moskalenko, Marina Zhukovskaya and Tetiana Kuzminchuk will come to Wiesbaden for the international premiere of their trilogy Ukraine November 2014 on the fortunes of three groups of protagonists from different regions of Ukraine.
Ongoing conflict as backdrop
Meanwhile, Kharkov-based producer-writer-director Igor Parfenov has told Screen Daily that production is now underway on his latest project Horses, Humans, Heinous about events on the Maidan Square and the war in Ukraine, which is a sequel to his previous feature Once Upon A Time In Ukraine
Parfenov had come to last year's FilmFestival Cottbus in November for the world premiere of Once Upon A Time In Ukraine in the sidebar of new Ukrainian films.
Both films had been produced by Parfenov's production company Steps Studio, with Once Upon.. set against the backdrop of the Maidan Square protests in winter 2013.