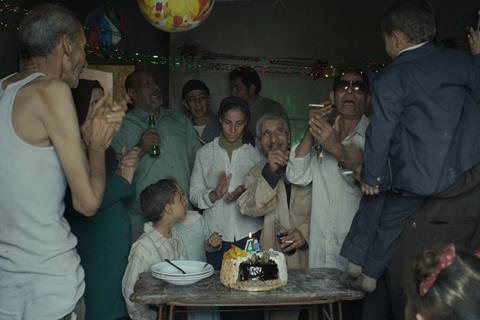 Egyptian director Omar El Zohairy's social satire Feathers, which won the top prize at Cannes Critics' Week last year, has swept the board at the sixth edition of the Critics' Awards for Arab Films.
The film, which was nominated in four categories, won best film, director and screenplay.
This year's edition of the awards, spearheaded by the Cairo-based Arab Cinema Centre (ACC), focuses on Arab-language films that premiered on the festival circuit outside of the Arab world in 2021.
It was voted on by 167 film critics from 68 countries, who viewed the films on Festival Scope.
Palestinian talent dominated the acting awards with Maisa Abd Elhadi winning actress for her daring performance in Hany Abu-Assad's Bethlehem-set thriller Huda's Salon, and Palestinian Ali Suliman clinching best actor for West Bank-set drama Amira by Egyptian director Mohamed Diab.
Best documentary went to Syria-born Palestinian filmmaker Abdallah Al-Khatib's Little Palestine, Diary Of A Siege about life in the Palestinian refugee camp of Yarmouk outside of Damascus after it came under deadly siege at the height of Syria's civil conflict. The feature played in Cannes parallel section Acid in 2021.
Full list of winners (in bold) and nominations
Best Film
Europa (Iraq) - dir. Haider Rashid
Feathers (Egypt) - dir. Omar El Zohairy
Memory Box (Leb) - dir. Joana Hadjithomas and Khalil Joreige
Souad (Egy, Tun) dir. Ayten Amin
The Alleys (Jor, Egy, Saudi Arabia) - dir. Bassel Ghandour
Best actor
Adam Ali, Europa (Iraq)
Ali Suliman, Amira (Pal)
Monzer Reyahnah, The Alleys (Jor)
Samir Guesmi, Life Suits Me Well (Mor)
Soufiane Guerrab, A Brighter Tomorrow (Alg)
Best actress
Afef Ben Mahmoud, Streams (Tun)
Demyana Nassar, Feathers (Egy)
Manal Issa, The Sea Ahead (Leb)
Maisa Abd Elhadi, Huda's Salon (Pal)
Saba Mubarak, Amira (Jor)
Best director
Ayten Amin, Souad (Egy)
Bassel Ghandour, The Alleys (Jor)
Ely Dagher, The Sea Ahead (Leb)
Hany Abu-Assad, Huda's Salon (Pal)
Omar El Zohairy, Feathers (Egy)
Best screenplay
Ayten Amin, Mahmoud Ezzat, Souad (Egy)
Bassel Ghandour, The Alleys, (Jor)
Ely Dagher, The Sea Ahead (Leb)
Khalil Joreige, Joana Hadjithomas, Memory Box (Leb)
Omar El Zohairy, Ahmed Amer, Feathers (Egy)
Best documentary
As I Want (Egy) - dir. Samaher Alqadi
A Thousand Fires (Pal) - dir. Saeed Taji Farouky
Little Palestine: Diary of A Siege (Pal-Leb) - dir. Abdallah Al-Khatib
Miguel's War (Leb) - dir. Eliane Raheb
Republic Of Silence (Syr) - dir. Diana El Jeiroud