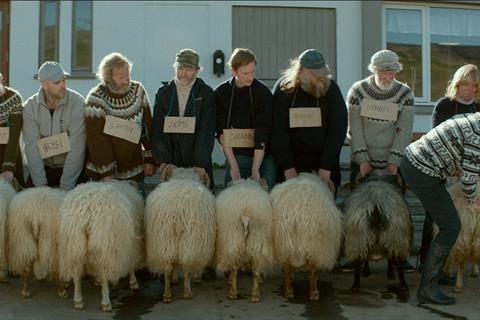 Sol Bondy and Jamila Wenske's Berlin-based One Two Films, has joined as a co-producer on Grimur Hakonarson's The County, the Icelandic director's anticipated follow-up to 2015 hit Rams.
One Two joins alongside German broadcaster SR/ARTE.
Grimar Jonsson of Iceland's Netop Films is the lead producer, with partners Profile Pictures of Denmark, Haut et Court of France and now One Two of Germany. Backers include the Icelandic Film Centre, Danish Film Institute, Nordisk Film + TV Fond and SR/ARTE.
As with Rams, Jan Naszewski's New Europe will handle sales. Distributors already on board are Sena in Iceland, Scanbox for Scandinavia and Haut et Court in France.
The County will start shooting in late February in the countryside of northern Iceland, for delivery in early 2019.
The story is a drama set in rural Iceland, about Inga, a middle-aged cow farmer, who loses her husband in a car accident and must stand on her own two feet.
Arndís Hrönn Egilsdóttir (Sparrows, The Press) will star as Inga, with the cast also including Hinrik Ólafsson, Sigurður Sigurjónsson, Hannes Óli Ágústsson, Ragnhildur Gísladóttir, Sveinn Ólafur Gunnarsson, and Jens Albinus.
Bondy told Screen: "We are super happy that we can continue the collaboration with Netop Films and Profile Pictures after Under The Tree, and also excited to be working with Haut et Court, who are one of the most interesting companies in Europe. Rams was one of our favourite films at the 2015 Cannes Film Festival, and being able to support this brilliant director on his second feature puts as exactly where we strive to be: first class international arthouse cinema."
One Two Films has Jennifer Fox's The Tale premiering in Sundance's US Dramatic Competition, and Isabel Coixet's The Bookshop playing as a Berlinale Special Gala. Its other forthcoming co-productions include Sven Taddicken's drama The Most Beautiful Couple and Hier by Bálint Kenyeres. The company's other credits include The Happiest Day In the Life of Olli Maki, Angry Indian Goddesses and Youth.