Inside the North & South American entries to this year's Foreign-Language Oscar race.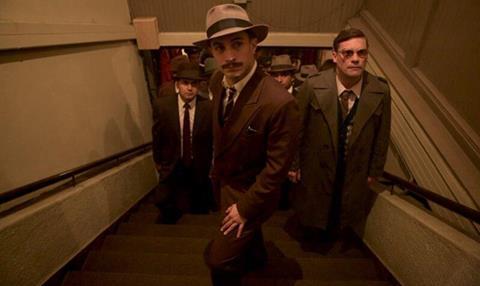 NORTH & SOUTH AMERICA
About Us (Costa Rica)
Dir Hernan Jimenez
Writer-director-star Hernan Jimenez's romantic comedy concerns a couple (played by Jimenez and co-star Noelia Castano) having relationship problems who head off to the beach in the hope of rekindling their flame. About Us is the director's first full-length feature since 2012's The Return, a drama about a young man confronting his past.
Contact: Lalala Productions info@lalalaprod.com
Alias Maria (Colombia)
Dir Jose Luis Rugeles
The second feature from Jose Luis Rugeles following Garcia (2010) premiered in Un Certain Regard at Cannes in 2015. It tells the story of a pregnant 13-year-old guerrilla tasked with taking a newborn out of the civil war zone and into safety. Colombia was nominated in this category last year with Embrace Of The Serpent.
Contact: Urban Distribution International info@urbandistrib.com
Breadcrumbs (Uruguay)
Dir Manane Rodriguez
The seventh feature from Spain-based Uruguayan director Manane Rodriguez (The Lost Steps) is set both in the present day and during the Uruguayan dictatorship of the 1970s. Cecilia Roth (best known for her work with Pedro Almodovar) stars as a woman once disowned by her well-to-do family who is now considering a return to Uruguay after becoming a grandmother.
Contact: Xamalu Filmes xamalu@xamalufilmes.com
The Companion (Cuba)
Dir Pavel Giroud
The second film by Pavel Giroud to represent Cuba in the foreign language category after The Silly Age in 2007, The Companion premiered at Busan in 2015. It spins a buddy drama out of the true story of a sanatorium set up by Fidel Castro's government to quarantine Aids victims in the 1980s.
Contact: Habanero Film Sales acalvino@habanerofilmsales.com
Desierto (Mexico)
Dir Jonas Cuaron
Gael Garcia Bernal and Jeffrey Dean Morgan lock horns in this cat-and-mouse thriller set in the Baja California desert, where Mexican illegal immigrants fall foul of a racist gunman. Cuaron co-wrote Gravity with his father Alfonso, who serves here as producer.
Contact: IM Global info@imglobalfilm.com
The Distinguished Citizen (Argentina)
Dirs Mariano Cohn, Gaston Duprat
Oscar Martinez (Wild Tales) won the best actor prize at Venice this year for his performance in this dark comedy about a Nobel-winning author who embarks on an ill-fated victory tour of his home town. Directors Mariano Cohn and Gaston Duprat (The Man Next Door) display their customary verve and provocative social conscience.
Contact: Latido Films latido@latidofilms.com
From Afar (Venezuela)
Dir Lorenzo Vigas
From Afar arrives laden with prestige, having won the Venice Golden Lion in 2015, when it was the first Venezuelan competition entry on the Lido. The character study chronicles the life of a middle-aged gay man in Caracas who is dealing with the return of his estranged father.
Contact: Celluloid Dreams info@celluloiddreams.com
It's Only The End Of The World (Canada)
Dir Xavier Dolan
Gaspard Ulliel plays a terminally ill prodigy who returns to his family in Dolan's starry Cannes Grand Prix winner. This is the French-Canadian director's third film to fly the flag for Canada after I Killed My Mother in 2009 and Mommy in 2014. Can we now stop calling him a wünderkind?
Contact: Seville International anickp@filmsseville.com
Little Secret (Brazil)
Dir David Schurmann
Brazil-New Zealand co-production Little Secret centres on three families dealing with personal dramas. The film's submission to the Oscar race ahead of the Sonia Braga-starring Aquarius was a surprise, and sparked protest on social media. Brazil has never won in the category, and has not been nominated since 1998's Central Station.
Contact: Schurmann Film Company contact@schurmannfilmco.com
Neruda (Chile)
Dir Pablo Larrain
Chilean master Pablo Larrain delivered two films in 2016 and, despite the accolades for Natalie Portman in Jackie, this is his towering achievement. Luis Gnecco and Gael Garcia Bernal star in this playful Spanish-language biopic of poet Pablo Neruda, on the run in postwar Chile from a dull-witted cop in search of gravitas.
Contact: Funny Balloons pdanner@funny-balloons.com
Salsipuedes (Panama)
Dirs Ricardo Aguilar Navarro, Manolito Rodriguez
This thriller stars Elmis Castillo as a Panamanian living in the US who returns home for a funeral, only to be caught up in the criminal activity of his father (Jaime Newball). Filmed on location in Panama City, Salsipuedes is the feature debut of co-directors Ricardo Aguilar Navarro and Manolito Rodriguez.
Contact: Habanero acalvino@habanerofilmsales.com
Sealed Cargo (Bolivia)
Dir Julia Vargas
Winner of the Special Jury Award and nominated for the Golden Peacock at this year's International Film Festival of India, Julia Vargas's film sees a Bolivian cop charged with moving a trainload of toxic cargo to Chile. The last time Bolivia submitted a film to the Academy was in 2014, with Olvidados, and the country has not yet landed a nomination.
Contact: Quechua Films sales@quechuafilms.com
Such Is Life In The Tropics (Ecuador)
Dir Sebastian Cordero
In a strong year for Latin American nominations, the Ecuadorian entry - only the fifth ever from the country - is something of a dark horse. Co-produced with Germany and Mexico, Sebastian Cordero's hard-boiled thriller, so far seen only on home ground and at Morelia Film Festival, revolves around a dispute between a rich landowner and a group of squatters.
Contact: Carnaval Cine carnavalcine@gmail.com
Sugar Fields (Dominican Republic)
Dir Fernando Baez Mella
Set against the brutal dictatorship of Rafael Trujillo in the 1940s, this drama stars Dominican actor/singer Hector Anibal as a peasant who is forced to flee after killing a soldier in a bar-room brawl. After hiding out for a year on a remote fishing island, he returns to his wife and daughters.
Contact: Unicornio Films info@unicorniofilms.com.do
Videophilia (And Other Viral Syndromes) (Peru)
Dir Juan Daniel F Molero
Peru has had just one Oscar nomination, for Claudia Llosa's Milk Of Sorrow in 2009, but even compared to that this Tiger award-winning, micro-budget effort is probably too strange to follow suit. Writer/director Juan Daniel F Molero explores the digital age, from online dating to homemade porn, through the misadventures of some Lima youths.
Contact: Tiempo Libre Studio jd@tiempo-libre.org