How the winners reacted at this year's uneventful Oscars.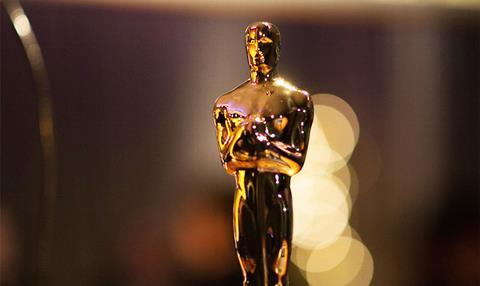 Read more:
Oscars 2017: Full list of winners
Oscars best picture gaffe sends Academy into tailspin
Hollywood reacts to Oscars best picture gaffe
Fred Berger, Jordan Horowitz, Marc Platt (best picture, La La Land), on stage:
Berger: "We lost by the way, but you know."
Horowitz: "Guys, I'm sorry, no, there's a mistake. Moonlight, you guys won best picture."
Platt: "This is not a joke, I'm afraid they read the wrong thing."
Barry Jenkins (best picture, Moonlight, after La La Land was originally announced as the winner) on stage:
"Very clearly, even in my dreams this could not be true, but to hell with dreams, I'm done with it because this is true, oh my goodness.
"And I have to say, and it is true it's not fake, we've been on the road with these guys for so long and that was so gracious, so generous of them, my love to La La Land, my love to everybody, man."
Barry Jenkins and Tarell Alvin McCraney (best adapted screenplay, Moonlight), on stage:
Jenkins: "For all you people out there who feel there is no mirror for you, that you feel your life is not reflected, the Academy has your back, the (American Civil Liberties Union) has your back, we have your back, and for the next four years … we will not forget you."
McCraney: "This goes out to all those black and brown boys and girls and non-gender conforming who don't see themselves. We are trying to show you — you and us — so thank you. This is for you."
Emma Stone (best lead actress, La La Land) back stage:
"I've always dreamt of this kind of thing, but again, not in a realistic context. And for that, I fucking love Moonlight. God, I love Moonlight so much. I was so excited for Moonlight. And of course, you know, it was an amazing thing to hear La La Land. I think we all would have loved to win Best Picture, but we are so excited for Moonlight. I think it's one of the best films of all time. So I was pretty beside myself. I also was holding my best actress in a leading role card that entire time… I don't mean to start stuff, but whatever story that was, I had that card. So I'm not sure what happened. And I really wanted to talk to you guys first. Congratulations Moonlight. Hell, yeah."
Anousheh Ansari on behalf of Asghar Fardadi (best foreign-language, The Salesman) on stage:
"I will be reading a statement by Mr. Farhadi. It's a great honour to be receiving this valuable award for the second time. I would like to thank the members of the Academy, my crew in Iran, my producer Alexandre Mallet-Guy, Cohen Media, Amazon and my fellow nominees in the foreign film category. I'm sorry I'm not with you tonight. My absence is out of respect for the people of my country and those of other six nations whom have been disrespected by the inhumane law that bans entry of immigrants to the US. Dividing the world into the us and our enemies categories creates fear. A deceitful justification for aggression and war. These wars prevent democracy and human rights in countries, which have themselves been victims of aggression. Filmmakers can turn their cameras to capture shared human qualities and break stereotypes of various nationalities and religions. They create empathy between us and others. An empathy which we need today more than ever. Thank you on behalf of Mr. Farhadi."
Casey Affleck (best lead actor, Manchester By The Sea) on stage:
"One of the first people who taught me how to act was Denzel Washington and I just met him tonight for the first time, thank you. And to all the other nominees for your great work, I'm proud to be in your company. You guys are very brave and I admire what you do. I'm only here, really, because of all the talents and good will of so many people, they're impossible to name. But most of all, Kenneth Lonergan, who made this part and without this part and without his writing, I wouldn't be here for sure. And he directed it."
Damien Chazelle (best directing, La La Land) on stage:
"I just want to first thank my fellow nominees. I was absolutely honoured and floored to be in your company this year. So, Barry, Kenny, Mel, Denis —like, my eyes are searching, but I know you're here somewhere. Just thank you for what incredible filmmakers you are and for inspiring me with your work every day."
Viola Davis (best supporting actress, Fences) back stage:
"Everything about Rose challenged me. Rose just kind of seemingly just being sometimes at peace with being in the background was hard to play. Rose getting to a place of forgiveness was hard to play. I never hit it when I – that last scene when I did 114 performances on stage, I didn't understand the last speech when she said, you know, 'I gave up my life to make him bigger.' I didn't get that. But what Rose has taught me is a lot of what my mom has taught me: that my mom has lived a really hard life, but she still has an abundance of love. And that's the thing, you know. That's the thing about life. You go through it, and you – just terrible things happen to you, beautiful things happen to you, and then you try to just stand up every day, but that's not the point. The point is feeling all those things but still connecting to people, still being able to love people. And that was the best thing about playing Rose because I'm not there yet. Even at 51, sometimes I just kind of live in my anger."
Ezra Edelman (documentary feature, O.J.: Made In America) on stage:
"I wouldn't be standing here tonight if not for two people who aren't here with us, Ron Goldman, Nicole Brown, this is for them and their families. It is also for others, the victims of police violence, police brutality, racially motivated violence and criminal injustice. This is their story as well as Ron and Nicole's."
Colleen Atwood (costume, Fantastic Beasts and Where to Find Them) on stage:
"I'm truly floored. Sting told me I was gonna win tonight, and I didn't believe him at all."

Kevin O'Connell (sound mixer, Hacksaw Ridge, finally a winner after 21 nominations), back stage:
"I can't even tell you the experience that it was for me. As much as I thought I was going to know what it felt like, I didn't. And I have to tell you, it was the greatest feeling on the entire – in my entire life and I'm so grateful for the opportunity I had, especially to work with these guys and I'm so grateful. It's amazing."