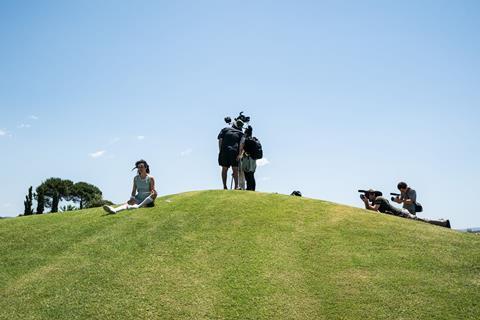 Thirteen projects from promising filmmakers selected for the Oxbelly Screenwriters and Directors Labs received guidance from mentors such as director Lulu Wang, actor Willem Dafoe, Arte France's Olivier Pere and The Match Factory founder Michael Weber when they took place in Greece from May 29-June 5.
The Labs were held in Costa Navarino under the artistic direction of Greek filmmaker Athina Rachel Tsangari, whose credits include Chevalier and Trigonometry.
The Labs offer international filmmakers the opportunity to work on their first or second feature script, as well as workshop and direct one scene from it, under the guidance of their experienced mentors.
In addition to Wang, Dafoe, Pere and Weber, those mentors were directors Michael Almereyda,Janicza Bravo, Naomi Foner, Dennis Iliadis Annemarie Jacir, actress Chulpan Khamatova, producer-director Stephanie Laing, producers Aaron Ryder and Dimitra Tsingou and director and cinematographer Eva Stefani.
The Labs were established in 2015 by the founder of Faliro House, Christos V. Konstantakopoulos, whose producer credits include The Lobster and Before Midnight. The last edition took place pre-pandemic in 2019.
The projects and fellows of the 2022 Oxbelly Screenwriters and Directors Labs were:
Carissa: Devon Delmar & Jason Jacobs (South Africa)
Prometheus: Yiorgos Fourtounis (Greece)
Bajo Risco: Helena Girón and Samuel M. Delgado (Spain)
40 Days: David Gutnik & Assol Abdullina (Kyrgyzstan, Ukraine, USA)
Drama Queens: Alexis Langlois, Carlotta Coco and Thomas Colineau (France)
The Last Tears Of The Deceased: Beza Hailu Lemma (Canada, Ethiopia)
Filipiñana: Rafael Manuel (Philippines, UK)
Shibboleth: Alexandra Matheou (Cyprus, Greece)
Elephants In The Fog: Abinash Shah (Nepal)
More Perfect: Jeannie Sui Wonders (USA)
Molly & Alpha: Aliki Tsakoumi (Greece, Sweden)
Impersonator: Andrew Norman Wilson (USA)
Almost There: Baer Xiao (China, France)