Digital video services up 30%, while the overall home entertainment market grew 1.5%.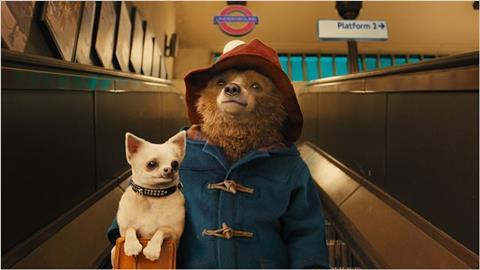 Paddington and Jurassic World were the UK's top performing home entertainment titles in 2015, while the country's digital video market grew 30% year on year, according to the British Video Association's (BVA) annual report.
Studiocanal's Paddington, based on Michael Bond's classic children's book series, sold 1.2 million physical copies in 2015, while Universal's Jurassic World sold 1.05 million in the 10 weeks following its release in October.
Warner Bros' The Hobbit – Battle Of The Five Armies was third, while a further two Universal titles - Fifty Shades Of Grey and Minions - complete the top five, according to data compiled by the Official Charts Company.
Combined DVD and Blu-ray sales reached 119.6 million in 2015, representing 48% of the total home entertainment market, which grew 1.5% to $3.28bn (£2.24bn) in 2015. Digital rental and sales made up 48% of the market, with the remaining percentage comprised of physical rentals.
The uptake of digital video services (including VOD and SVOD) continued to see significant growth, seeing a 30.3% year-on-year uplift in sales.
Digital ownership, the purchasing of online video content rather than rental, was up 50% on the previous year, seeing 11.5m transactions and $147m (£100m) in consumer spend, according to stats provided by research firm Futuresouce Consulting.
Overall, the total value of the UK's audiovisual industry, which also includes TV and cinema, grew 4.8% in 2015 to $15.97bn (£10.9bn).
Liz Bales, the CEO of the BVA, highlighted the increasingly multichannel look of the UK's home entertainment industry: "These figures show that the audio visual industry has evolved its business to remain ahead of the unprecedented changes in the way people want to access content."
Robert Price, chairman of the BVA and managing director of Twentieth Century Fox Home Entertainment, added: "The audio-visual industry has a brilliant record of constant evolution to meet the needs of its customers and that is never more true than it is today.
"Despite unprecedented change, and a troubled economic climate, the industry has continued to grow making it a major contributor to UK Plc and an incubator and promoter of the brilliant talent we have on our shores."
Richard Cooper, head of video at IHS, forecasted a strong year for home entertainment in 2016: "The digital market continues to grow strongly and new service launches such as DisneyLife and BBC Store will help to ensure that this sector sees continued growth.
"2016 will see the release of a number of strong titles, including Batman v Superman, The Jungle Book, and follow up to Finding Nemo: Finding Dory. Combining these with 2015 release; Star Wars, should ensure that 2016 sees strong consumer spending on home entertainment transactions."