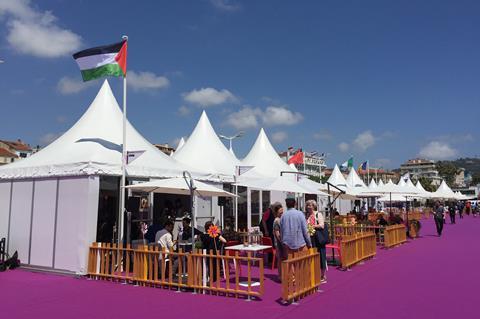 New films from award-winning documentarian Mohamed Jabaly, artist and filmmaker Larissa Sansour and the latest production from Degradé producer Rashid Abdelhamid are among 14 Palestinian projects to be pitched at a Producers' Network happy hour event on May 15 in Cannes.
Palestine's stateless filmmaking community is out in force at Cannes with its first-ever official pavilion at the event, supported by the Palestinian Ministry of Culture in partnership with the French Consulate in Jerusalem and the Palestinian Cultural Fund.
"We've had a strong unofficial presence in Cannes ever since Michel Khleifi's Wedding In Galilee played here in 1987," said producer and director Mohanad Yaqubi, referring to the drama about wedding celebrations marred by an Israeli curfew. "But we've never had a pavilion. It's a relief to have a base where we can set up meetings and welcome people rather than being stateless within the festival so to speak."
Tuesday's pitching event and happy hour at the heart of the Palestinian delegation's events in Cannes this year. Jabaly, whose Gaza-set debut feature Ambulance premiered to critical acclaim at CPH:DOX in 2016, is presenting his new documentary Stateless about six young Arabs living together in Norway in a refuge for asylum-seekers.
Sansour brings her post-apocalyptic Bethlehem sci-fi tale In Vitro, which is in pre-production. Producer Abdelhamid will unveil the debut feature of buzzy upcoming Tunisian filmmaker Ismahane Lahmar's A Respectable Family, described as a "fantastico-realistic fable" about a couple brought together against their will.
Further drama projects include Ameen Nayfeh's 200 Metres about a man separated from his wife and children by the construction of Israel's separation wall which has cut through their community. It is produced by May Odeh.
In a separate event in the Doc Corner, the delegation is presenting two documentary projects on May 14: Mohammed Abugeth's The Devil's Drivers about two Bedouin tearaways in the Negev Desert, whose smuggling business has been hit hard by a flare-up in the Israel-Palestine conflict, and Khaled Jarrar's Displaced In Heaven about a Palestinian family's flight to Europe via the Balkans, exploring the "horror of exile".