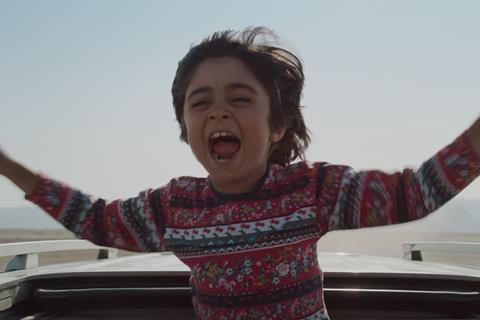 Panah Panahi's Hit The Road was named best film at the 30th Silver Screen Awards in Singapore, while PS Vinothraj took best director for Pebbles and Tolepbergen Baissakalov received the best performance award for Fire. The Singapore International Film Festival (SGIFF) announced the winners on Facebook on Sunday (December 5).
The jury - Peggy Chiao, Angeli Bayani, Kim Young-woo and Chalida Uabumrungjit - said the Iranian film "masterfully weaves raw poetic imagination with humour, melancholy and humanism", and lauded Indian director Vinothraj for his cinematic sense that "in every direction, the mise-en-scene balances the stroke of the sublime with the conflicting entanglements of toxic masculinity". Both of them are debut features.
Several prizes for Southeast Asian short films were presented, including best director for Mark Chua and Lam Li Shen for A Man Trembles.
Following last year's hybrid edition, SGIFF returned fully to the cinemas this year, hosting 77 onsite screenings (of which 40 were sold out) and 19 onsite Q&As over 11 days. Over 8,000 cinema tickets were sold.
While the Covid-19 measures for cinemas remain strict, with seating capacity limited to 50%, SGIFF was able to bring in international guests for the first time in two years. Many Asian countries still impose entry restrictions and border closures, making it difficult to travel even within Asia. Singapore, which has 96% of its population (aged 12 years and above) fully vaccinated, has started transitioning itself towards living with Covid-19. Vaccinated travellers from certain countries can visit the city-state under the new vaccinated travel lanes scheme.
SGIFF's international guests were quarantined for two days only, while waiting for their PCR test results. Filmmakers who made it here to meet auidiences include opening film Vengeance Is Mine, All Others Pay Cash director Edwin from Indonesia, The Edge Of Daybreak director Taiki Sakpisit from Thailand, and Barbarian Invasion director Tan Chui Mui from Malaysia, all of them also served as mentors of SGIFF's Southeast Asian Film Lab.
A couple of guests travelled further from Europe, including Pascal Diot and Eddie Bertozzi who spoke at SGIFF's Southeast Asian Producers Network. Apart from Chao and Bayani, all the jury members attended the festival in-person, including Kim from South Korea, Chalida from Thailand, Chan from Hong Kong and Lisabona from Indonesia.
After announcing the Silver Screen Awards winners, SGIFF closed on Sunday with an encore screening of the best film winner Hit The Road and of the audience choice award winner, Some Women. The latter is an autobiographical documentary by Singapore's first transgender director Quen Wong.
Silver Screen Awards winners in full:
Asian feature film competition
Best Film: Hit The Road (dir. Panah Panahi, Iran)
Best Director: PS Vinothraj, Pebbles (India)
Best Performance: Tolepbergen Baissakalov, Fire (Kazakhstan)
Southeast Asian film competition
Best Southeast Asian Short Film: The Men Who Wait (dir. TruO'ng Minh Quy, Vietnam)
Best Director: Mark Chua & Lam Li Shen, A Man Trembles (Singapore)
Best Singapore Short Film: {If Your Bait Can Sing The Wild One Will Come} Like Shadows Through Leaves (dir. Lucy Davis)
Youth Jury Prize: Broken Leg (dir. Huynh Cong Nho, Vietnam)
Special Mention: February 1st (dirs. Mo Mo & Leila Macaire, Myanmar)
Southeast Asian Film Lab
Most Promising Project: The Itinerant (dir. Ukrit Sa-nguanhai, Thailand)
Fellowship Prize: Rafael (dir. Paul Rembert Patindol, Philippines); and Daughter Of The Mountain God (dir. Pham Hoang Minh Thy, Vietnam)
Youth Jury & Critics Programme
Young Critic Award: Tracey Toh (Singapore)
Outstanding Contribution to Southeast Asian Cinema Award: Southeast Asia Fiction Film Lab (SEAFIC)
Audience Choice Award: Some Women (dir. Quen Wong, Singapore)